Sensodyne
Agency: Brunner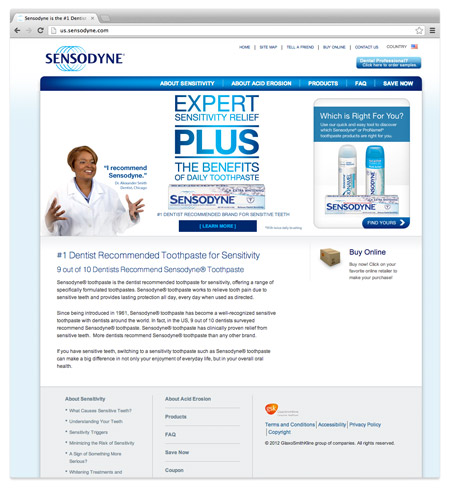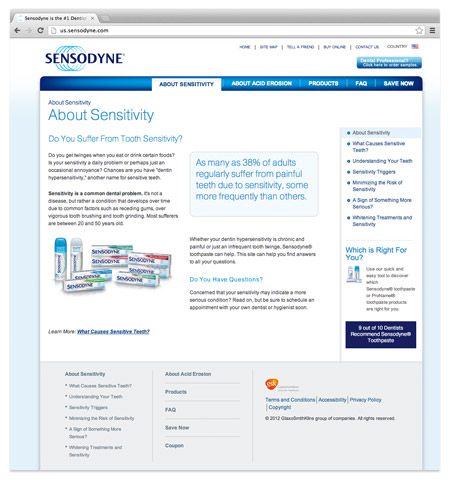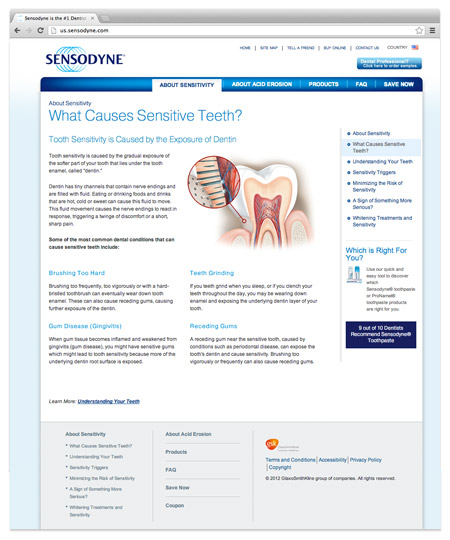 ---
SECTION #1:
ABOUT SENSITIVE TEETH
Do your teeth twinge when you eat or drink certain foods? Do you suffer from painful teeth due to tooth sensitivity? Do you have sensitive gums? Is your sensitivity a daily problem or perhaps just an occasional annoyance? Chances are you have "dentine hypersensitivity", another name for sensitive teeth.
Whether your sensitivity is chronic and painful or just an infrequent tooth twinge, Sensodyne can help. This site can help you find answers to all your most common questions, as answered by our own network of dental care professionals.
Still have questions? Concerned that your sensitivity may indicate a more serious condition? Read on, but be sure to schedule an appointment soon with your own dentist or hygienist as well.
WHAT CAUSES SENSITIVE TEETH?
Tooth sensitivity is caused by the gradual exposure of a part your tooth that lies under the tooth enamel, called "dentin". Dentin is filled with tiny microscopic tubules that act as pathways to allow hot or cold foods to come in direct contact with the nerve, causing an unpleasant twinge or painful sensation.
Some of the most common dental conditions that can cause sensitive teeth include:
Teeth grinding
If your teeth grind when you sleep, or if you clench your teeth throughout the day, you may be wearing down enamel and exposing the underlying dentin layer of your tooth.
Receding gums
A receding gum near the sensitive tooth, caused by conditions such as periodontal disease, can expose the tooth's dentin and cause sensitivity. Brushing too vigorously or frequently can also cause receding gums.
Acid erosion
Also called "acid wear" or "tooth erosion", this condition is caused by acidic food or drinks that weaken your tooth's enamel over time. Today's modern diet of fruit drinks, soft drinks, wine and even some fruits and vegetables can cause acid wear that exposes the tooth's dentin layer.
Brushing Too Hard
Otherwise good dental hygiene habits such as brushing too frequently, too vigorously or with hard-bristled toothbrush can eventually wear down tooth enamel. It can also cause receding gums, causing further exposure of the dentin.
Gum Disease (Gingivitis)
When gum tissue becomes inflamed and weakened from gingivitis (gum disease), you may feel sensitivity because more of the underlying root surface is exposed, including the dentin.
---

Choolaah Indian BBQ
Agency: Wall-to-Wall Studios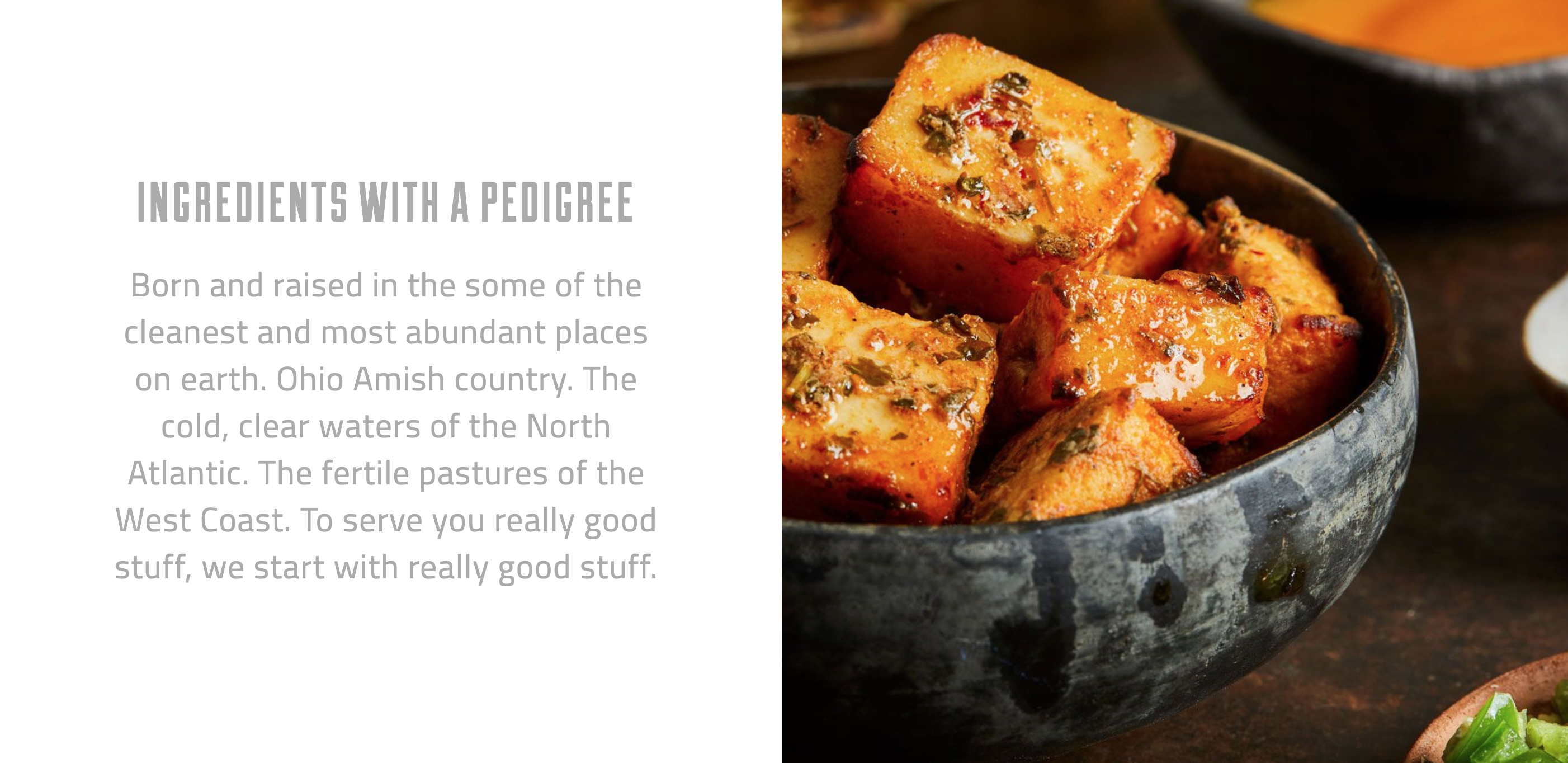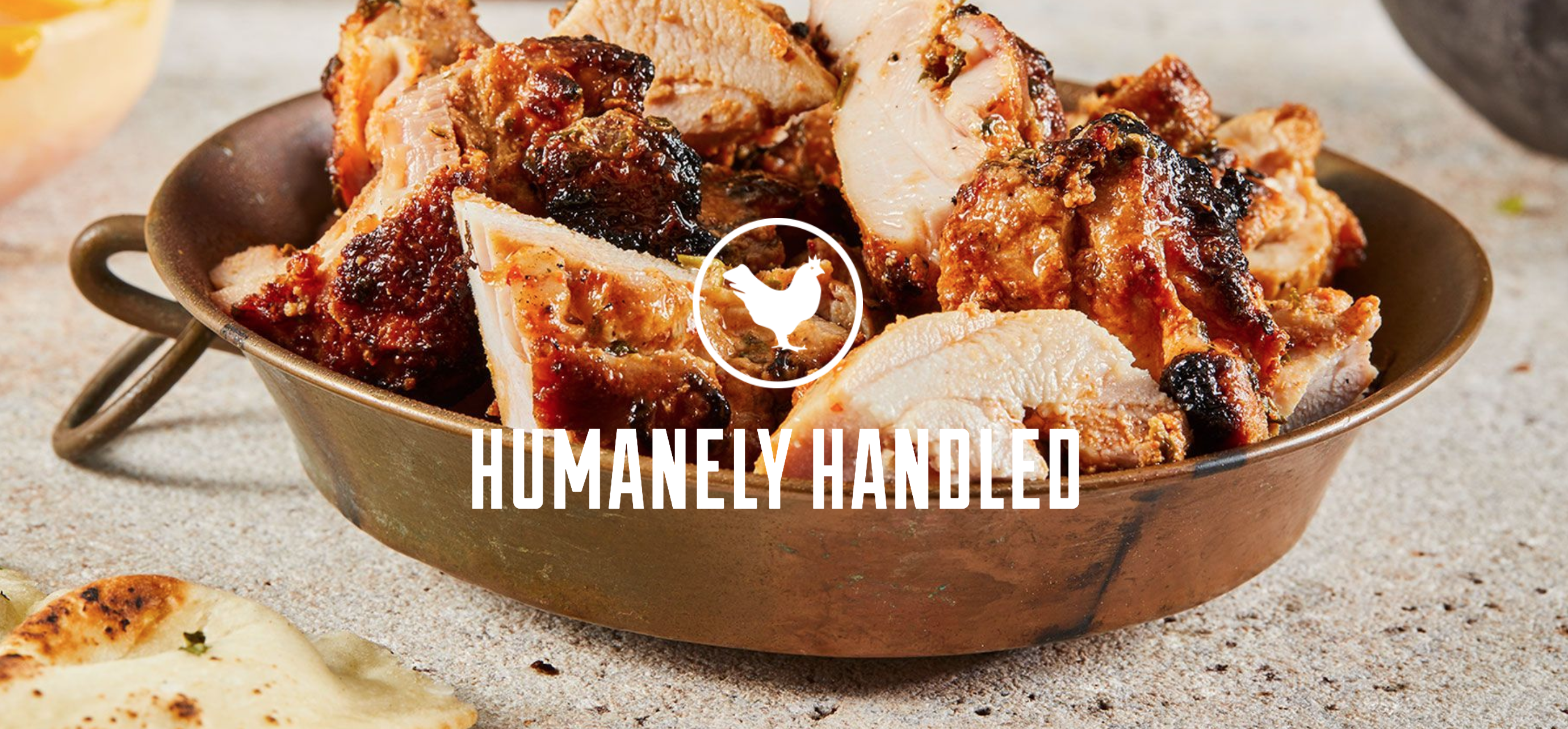 ---
HOME PAGE BLOCK 1 (SOURCING):
Ingredients with a Pedigree.
Born and raised in the some of the cleanest and most abundant places on earth. Ohio Amish country. The Faroe Islands. Rocky Mountain pastures. To serve you really good stuff, we start with really good stuff.
ROLLOVER:
See the good stuff for yourself.
HOME PAGE BLOCK 2 (AUTHENTICITY):
Authentically Authentic.
Tandoor-cooked right before your eyes, our food comes from our own family recipes and centuries-old Indian kitchens. But we make it amazingly fresh and delightfully modern.
ROLLOVER:
HOME PAGE BLOCK 3 (CATERING):
We've Got You Catered.
Serve your guests or colleagues what they really want. Happy, hearty food that's yum, not yawn. The flavors. The spices. The colors. The choices. The plates. The utensils. Choolaah brings it.
OUR STORY SECTION:
(HEADLINE)
4,000 Years Old and Still Fresh.
(BLOCK 1)
From Chulha to Choolaah.
Every day in ancient northern India, people gathered around a community oven or "sanja chulha" to share their stories. Fresh-baked breads, hot from tandoor ovens, were served with warmth and love. Choolaah is a fresh take on this timeless experience of sitting, sharing and savoring good company and good food, every day.
(BLOCK 2)
Yum for Everyone.
Nothing else is Choolaah. Ancient clay cooking methods, a modern commitment to good health and the booming popularity of Indian cuisine makes Choolaah exotically familiar. Adventurously American. Comfortably non-conformist. But always made, served and eaten with joy.
(BLOCK 3)
Where Does the Joy Come From?
In the timeless Indian tradition of welcoming everyone with a smile, our co-CEOs Raji and Randhir are committed to delivering food people love to eat, compulsively rave about and want to come back for every day. Whether we're behind the counter or behind the scenes at Choolaah, the joy is baked in.
(BLOCK 4)
Is Choolaah Spicy?
Using bright, authentic spices imported direct from India, we make sure you taste flavor, not fire. Choolaah is yummy for everyone: you, your friends, your kids, even Grandma. Heat seekers can add our homemade chili sauce to spice things up.
(BLOCK 5)
What if I'm a Vegetarian?
Oooh, you'll love Choolaah's many veggie options. The luscious Paneer Tikka is full of cheesy-good protein. Our salads are made to order in countless combinations. Or order up a Veggie Biryani, Veggie Samosa, our own Veggie Tikki, Vegetable Tikka Masala bowl and more.
(BLOCK 6)
What Makes it So Good?
Our tandoor clay oven cooks meats and cheeses at very high temps. They never touch each other or the cooking surface. Fat drips off and flavor stays in. Our premium ingredients are hormone-, antibiotic- and GMO-free. Even the spices we use have proven health benefits. Google "turmeric" or "Ayurvedic spices" to see what we mean.
FIND US SECTION:
(HEADLINE)
Stop in and Say 'Sup.
Business meetings. Bridal showers. Baby showers. Birthday parties. Any party. We cater to you. Your buds--and their tastebuds--will thank you.
---

Petuum
Agency: Wall-to-Wall Studios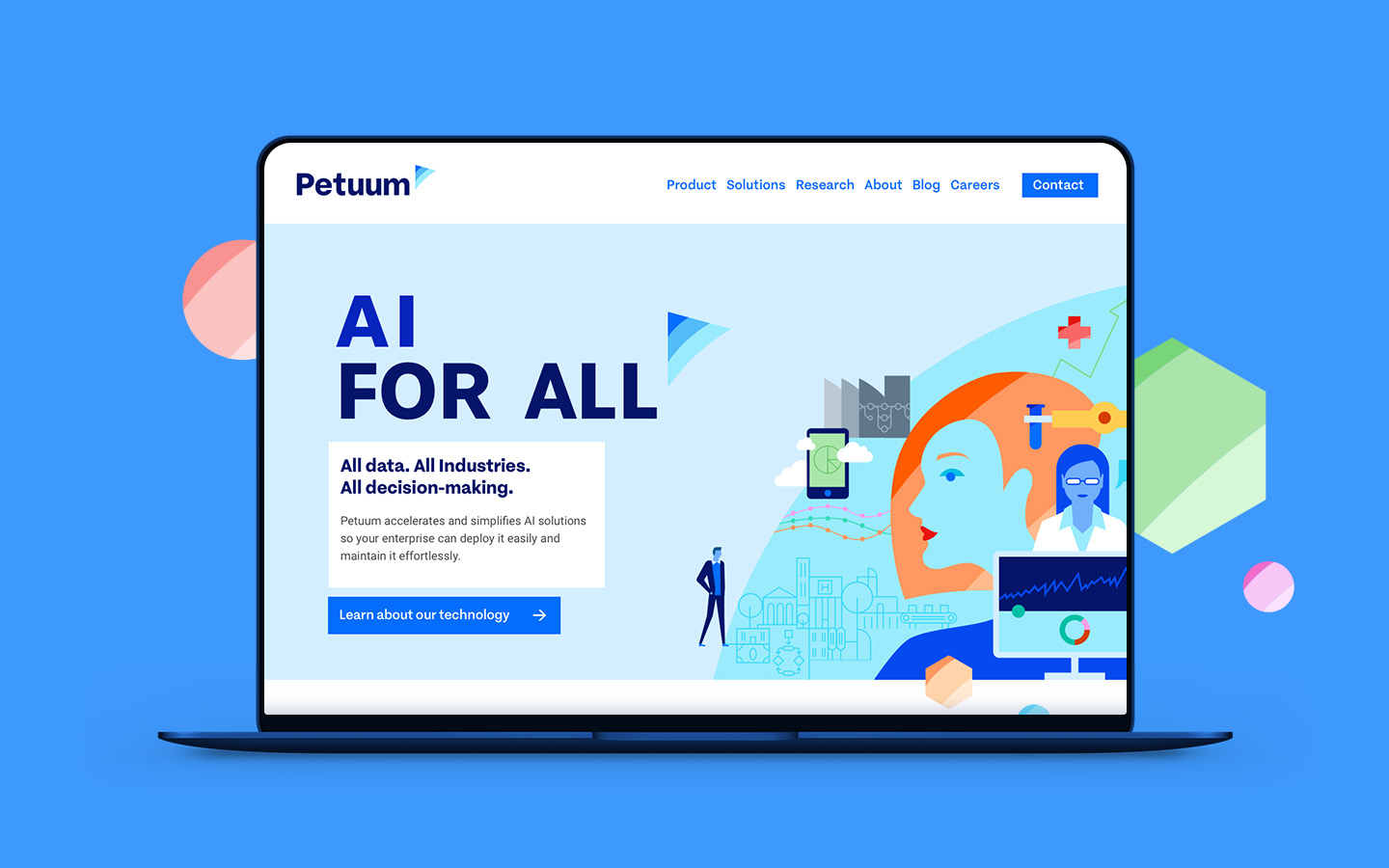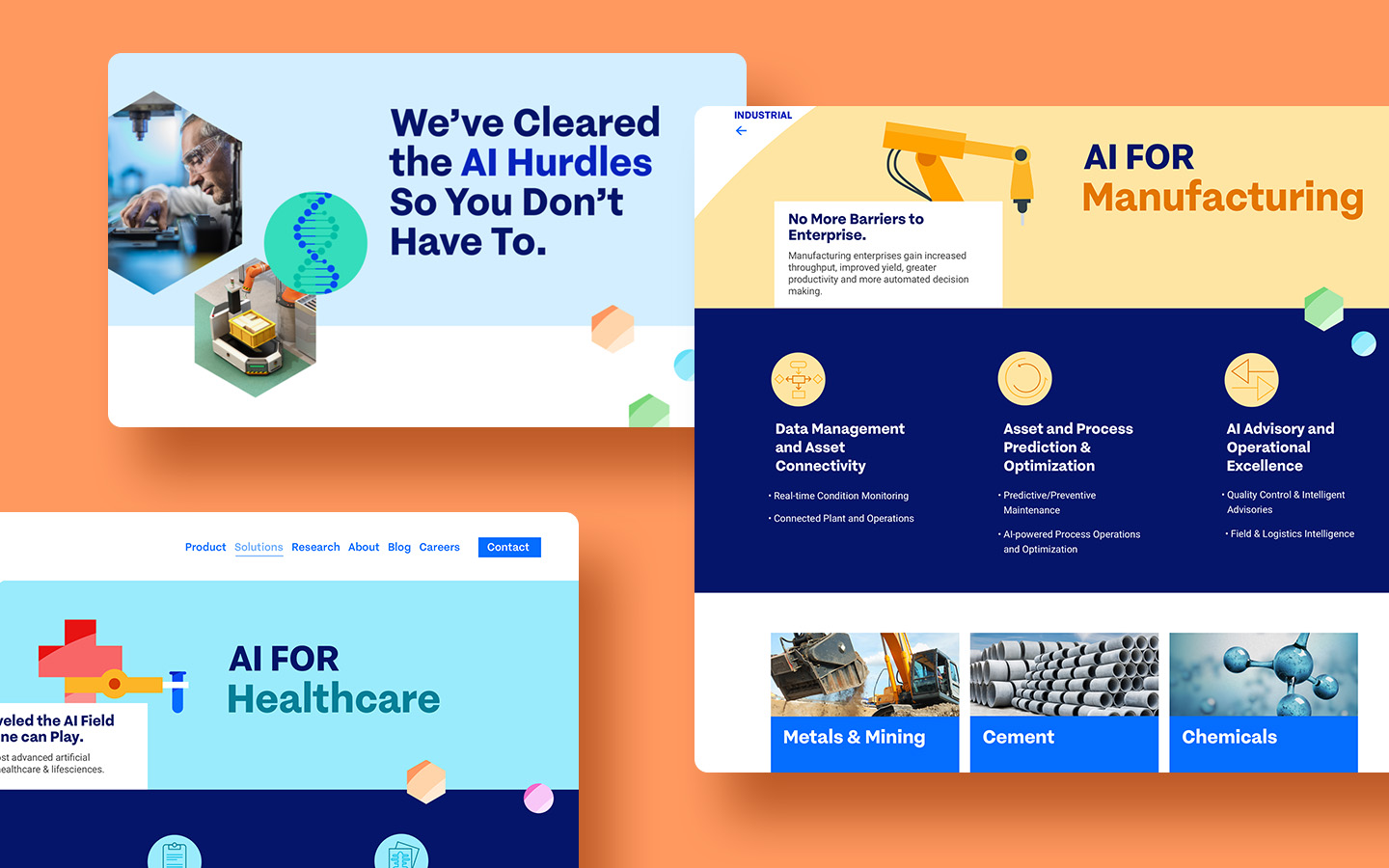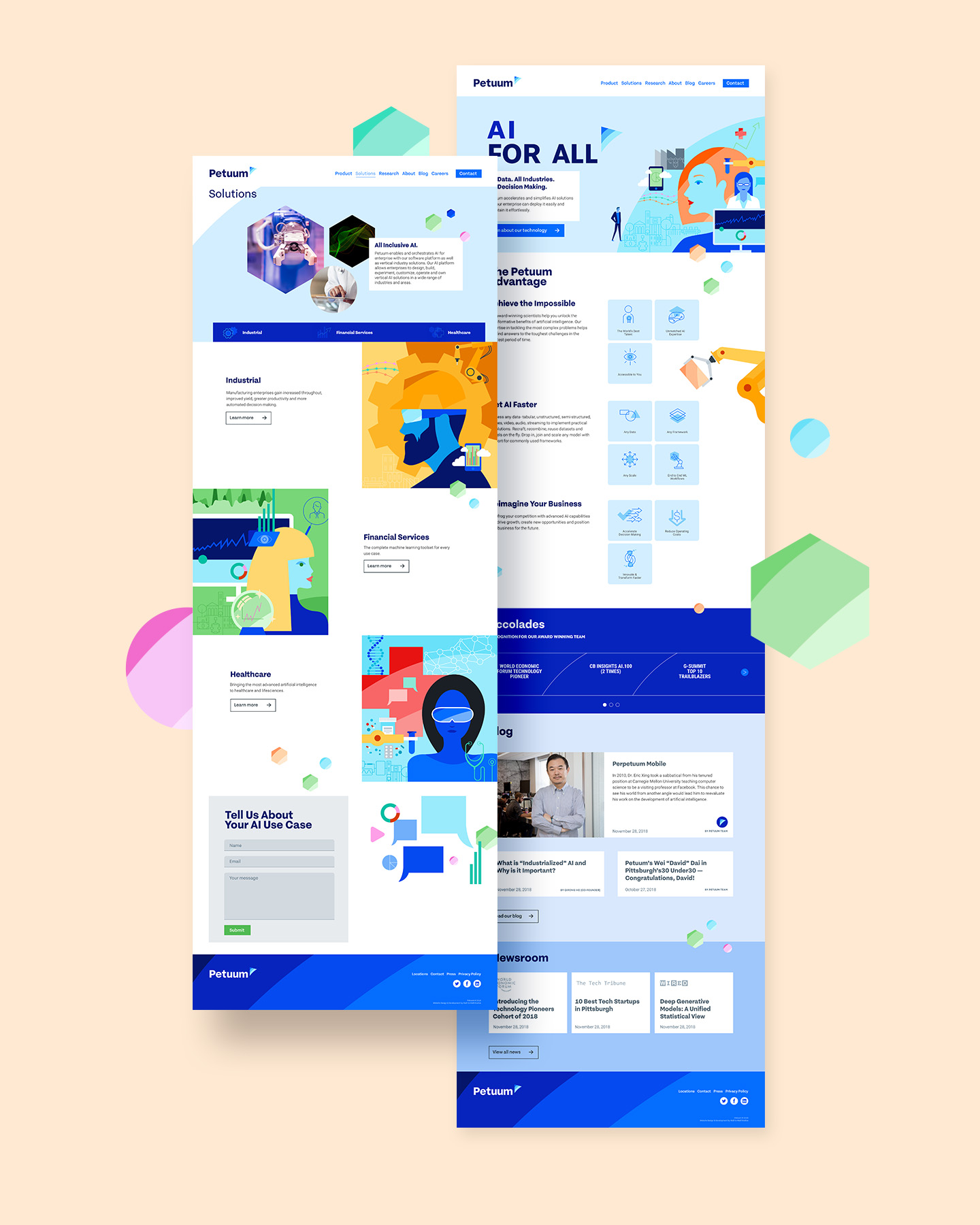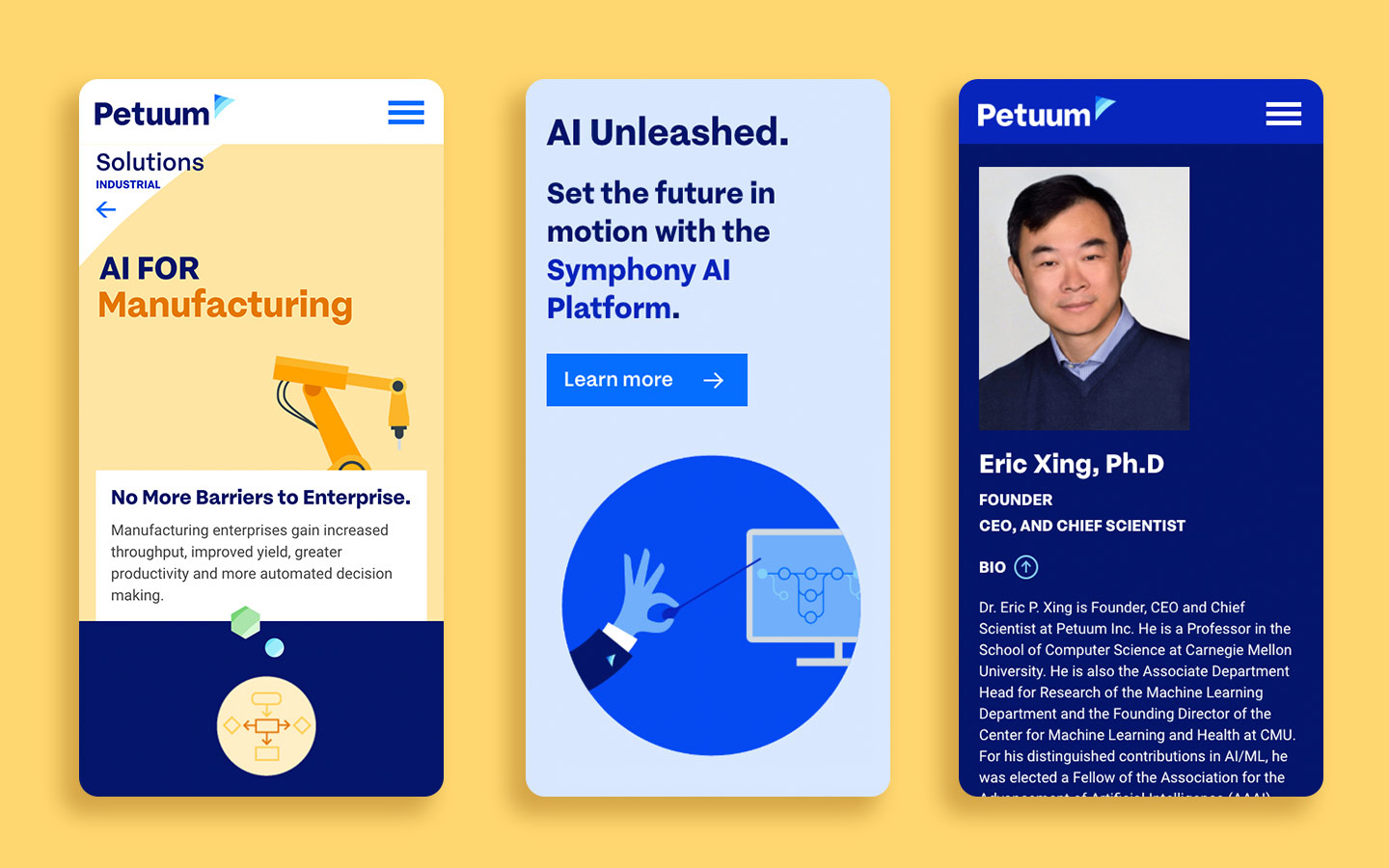 ---
PETUUM
Home Page Copy + Symphony Page Copy
November 19, 2018

HOME PAGE COPY:

(HEADLINE)
AI for All.
(COPY)
All industries. All users. All data. All decision-making.
Petuum speeds, simplifies and automates AI so your enterprise can access it fully and use, own and maintain it easily. Quickly turn raw data in any form, even in multiple silos, into fully operationalized solutions without coding. On your terms. With your platform. Using your people.
LEARN MORE>
(SUBHEAD)
THE PETUUM ADVANTAGE
RUN AI FASTER
Liberate your enterprise from AI solutions that are too specific, too specialized and require costly outside talent to maintain. Turn your own subject matter experts and business analysts into AI builders and informed users and get AI working fast.
Any model
Any platform
Any scale
BUILD IT SIMPLER
Petuum has transformed AI into an industrial technology. In our hands, AI can be mass-produced at a low total cost, support your small-to-very-large data sizes and achieve high task accuracy.
Easy visualization
Building blocks
End-to-end ML
UNLOCK THE FUTURE
From healthcare to industrial manufacturing and utilities to financial services to telecommunications, autonomous driving and beyond, Petuum is enabling the eventual integration of AI into the foundation of every industry.
Top talent
Proven algorithms
Built-in efficiency
PICK UP THE REST OF THIS PAGE AS IS FROM WIREFRAME…
PRODUCT PAGE COPY: SYMPHONY
(HEADLINE)
The Symphony AI Platform
(SUBHEAD)
AI Unleashed.
Symphony changes everything. Its modular building blocks are intuitive and elegant; a thing of beauty. Which makes hiring expensive AI talent a thing of the past. From data processing to ML to deployment, Symphony allows you to orchestrate your own custom solutions intuitively and quickly. Finally unlock the intelligence inside even your most unruly data. Set the future in motion.
(SUBHEAD)
WHY SYMPHONY?
SIMPLER PROBLEM-SOLVING
Packaged & custom models
Visual pipeline building
Industry-specific libraries

FASTER ML SOLUTIONS
Optimized data model parallelism
Rapid execution on commodity hardware
Proven benchmarks
OPTIMIZED EFFICIENCY
50%+ lower infrastructure & operating costs
Adaptable & extendible
Universal hardware compatibility
---

Carnegie Mellon University Integrated Innovation Institute (iii)
Agency: Wall-to-Wall Studios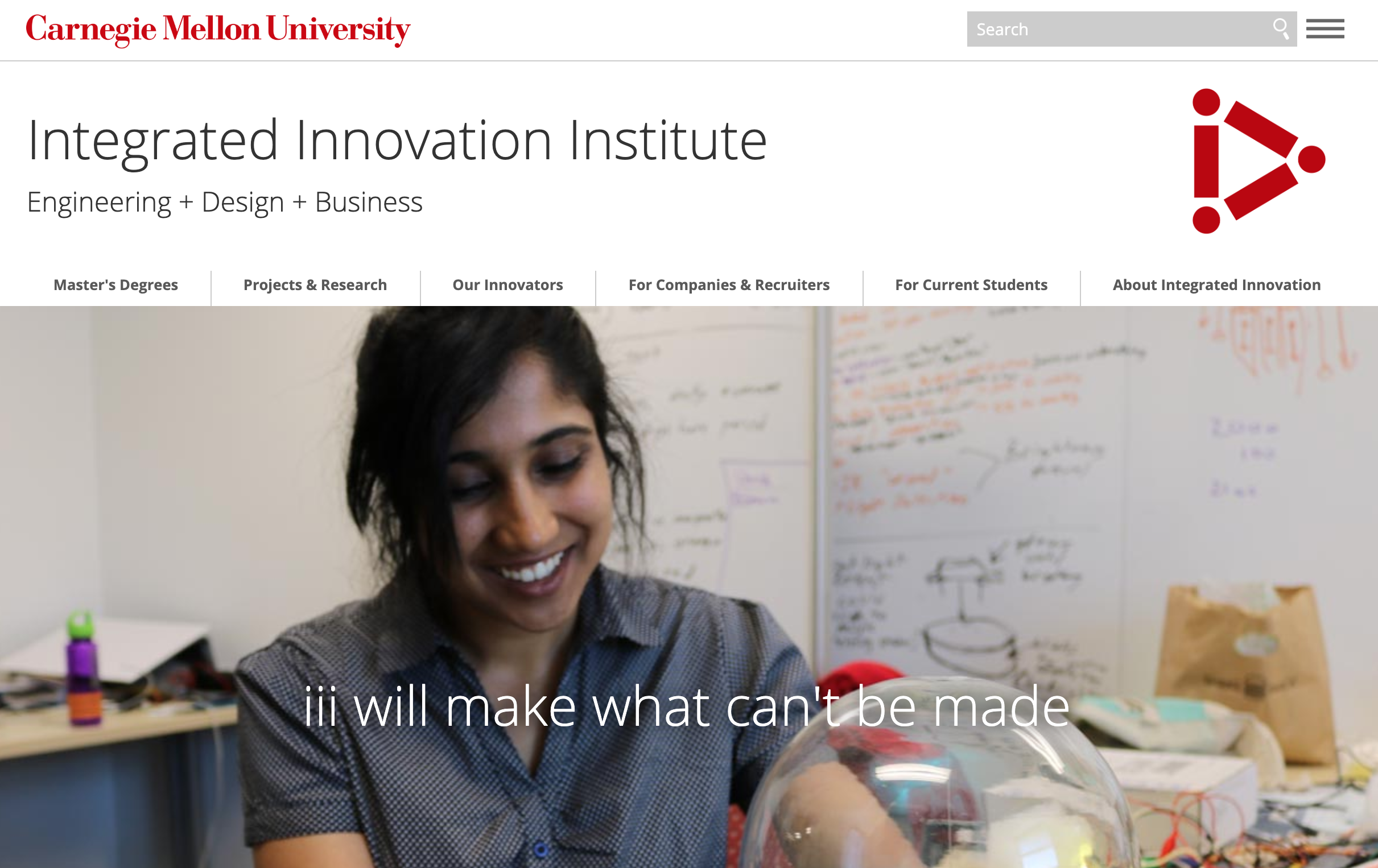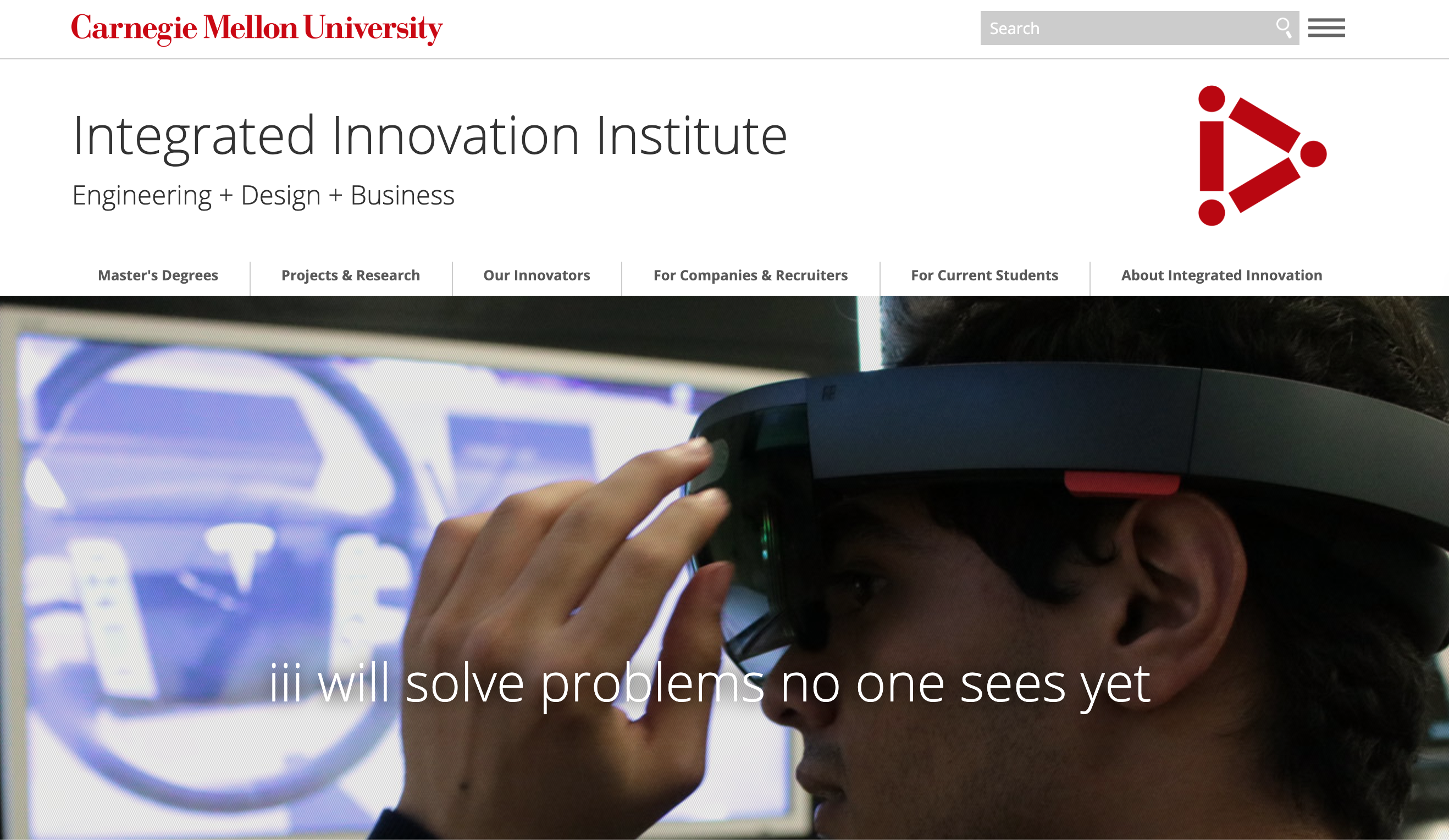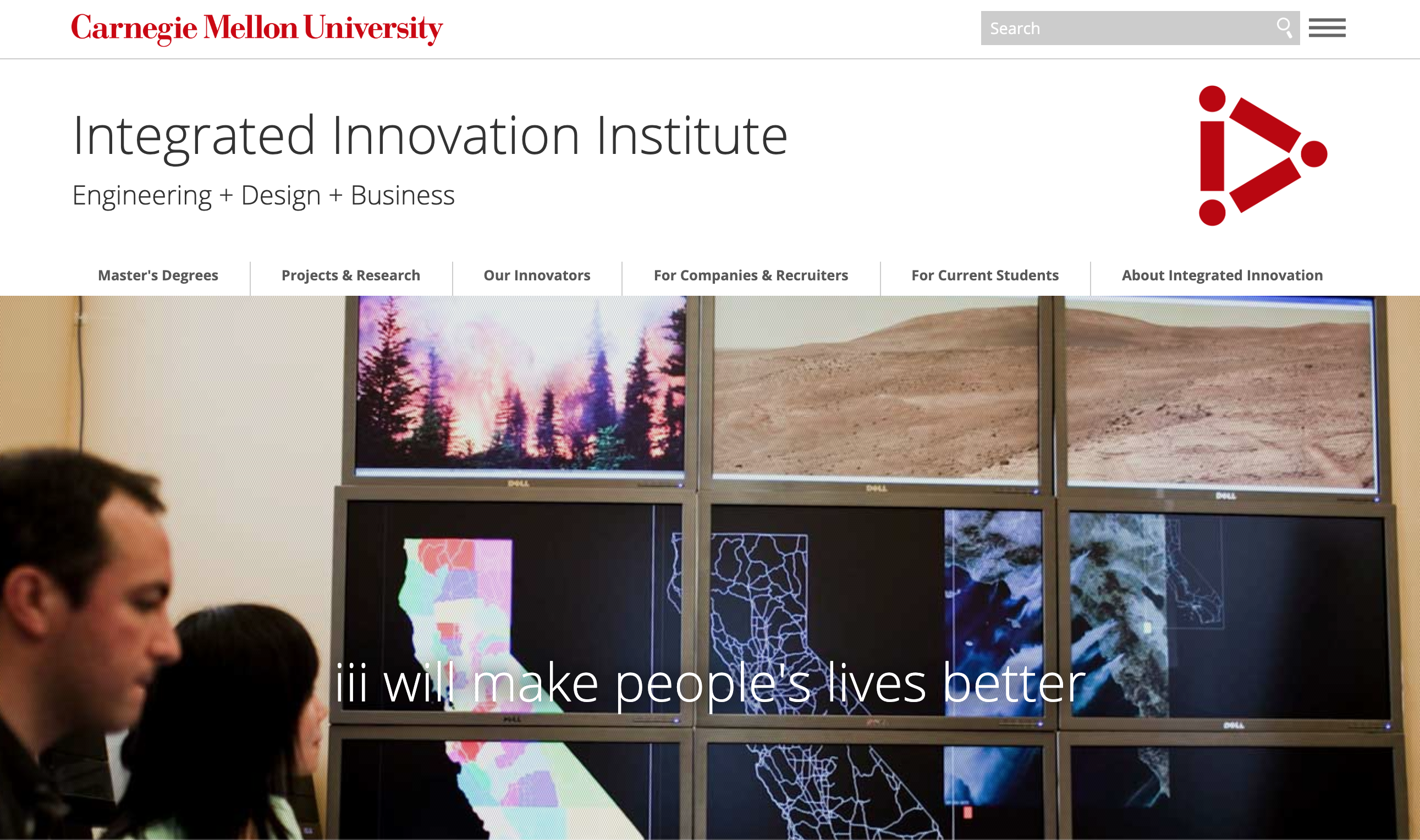 ---
CARNEGIE MELLON
III Concepts
May 11, 2017

NEXT/EDGE
Be what's next.
Find what's next.
Find your edge. (AS IN FIND YOUR COMPETITIVE EDGE/NICHE AND ALSO GO OUT TO THE EDGE OF THE MARKET)
Push your edge.

AHEAD/FORWARD
Go ahead. (AS IN, GO AHEAD AND CHANGE THE WORLD, AND ALSO GO AHEAD OF WHAT'S NEXT)
Always ahead. (implies becoming a leader but also getting in front of trends/new inventions)
Forward fast. (flipping "Fast forward")
Always forward.

MY TWIST ON SAMSUNG "WHAT CAN'T BE DONE" LINE, WHICH IS "WE MAKE WHAT CAN'T BE MADE SO YOU CAN DO WHAT CAN'T BE DONE":

See what others don't. Make what others can't.
See what can't be seen. Do what can't be done.

"PRODUCT"
THE TYPICAL III STUDENT WANTS TO DEVELOP NEW PRODUCTS AND WITH THIS CONCEPT, III STUDENT BECOMES THE PRODUCT OF THE PROGRAM
VISUAL: BIG, HERO PICTURE OF A STUDENT/STUDENTS AS PART OF A CASE STUDY?
Bruno Selva
Product: Botfarm
(HEADLINES)
We Make Winners.
We Make What No One Else Can.
We Make Next Big Things.
Meet the Product of a Groundbreaking Program.
We Produce the People Whose Products Change the World.
Our Products are World-Changing.
We Create World-Changing Products.
We Launch the Most Amazing Products in the World.

BRINGING OUT WHAT'S INSIDE THE STUDENT AND THE PROGRAM
Greatness inside.
There's greatness inside.
There's greatness in here.

RE-____
Remake you.
Rebuild you.
Rethink you.
Redraw you.
Reengineer you.
Resell you.
Remarket you.
Remake yourself.
Rebuild yourself.
Rethink yourself.
Redraw yourself.
Rengineer yourself.
Resell yourself.
Remarket yourself.

III AS IN "I"
III will change the world.
III will make what can't be made.
III will solve problems that no one sees yet.
III will make people's lives better.
III will invent it myself.

QUIRKY METAPHORS LIKE GENERAL ASSEMBLY
DOUBLE MEANING: THE MAJOR ITSELF, AND THE END RESULT YOU CREATE
Unheard-of.
Not possible.
Over-reacher.
Crazy talk.
Say whaaaaat?
Not in a million years.
---

Awaken Pittsburgh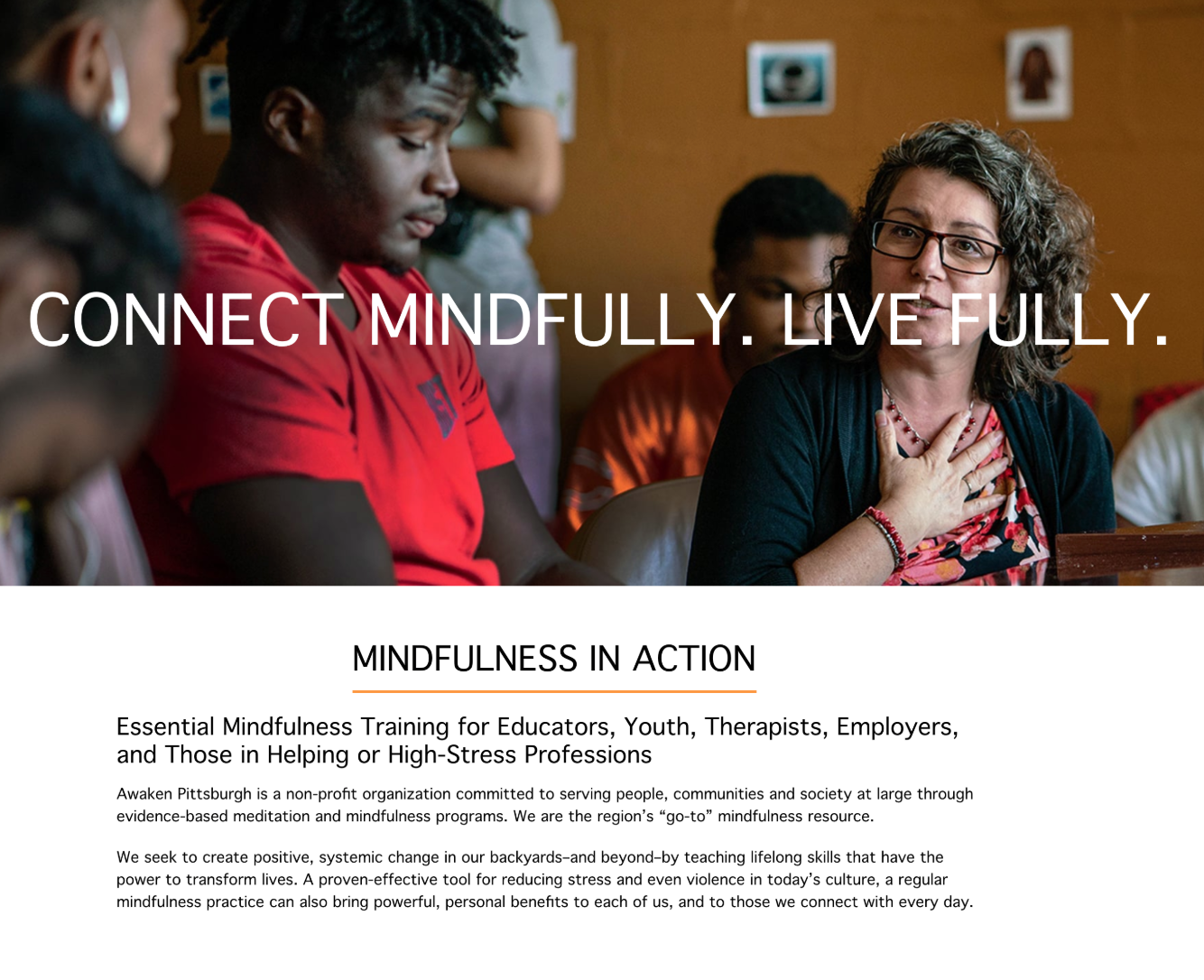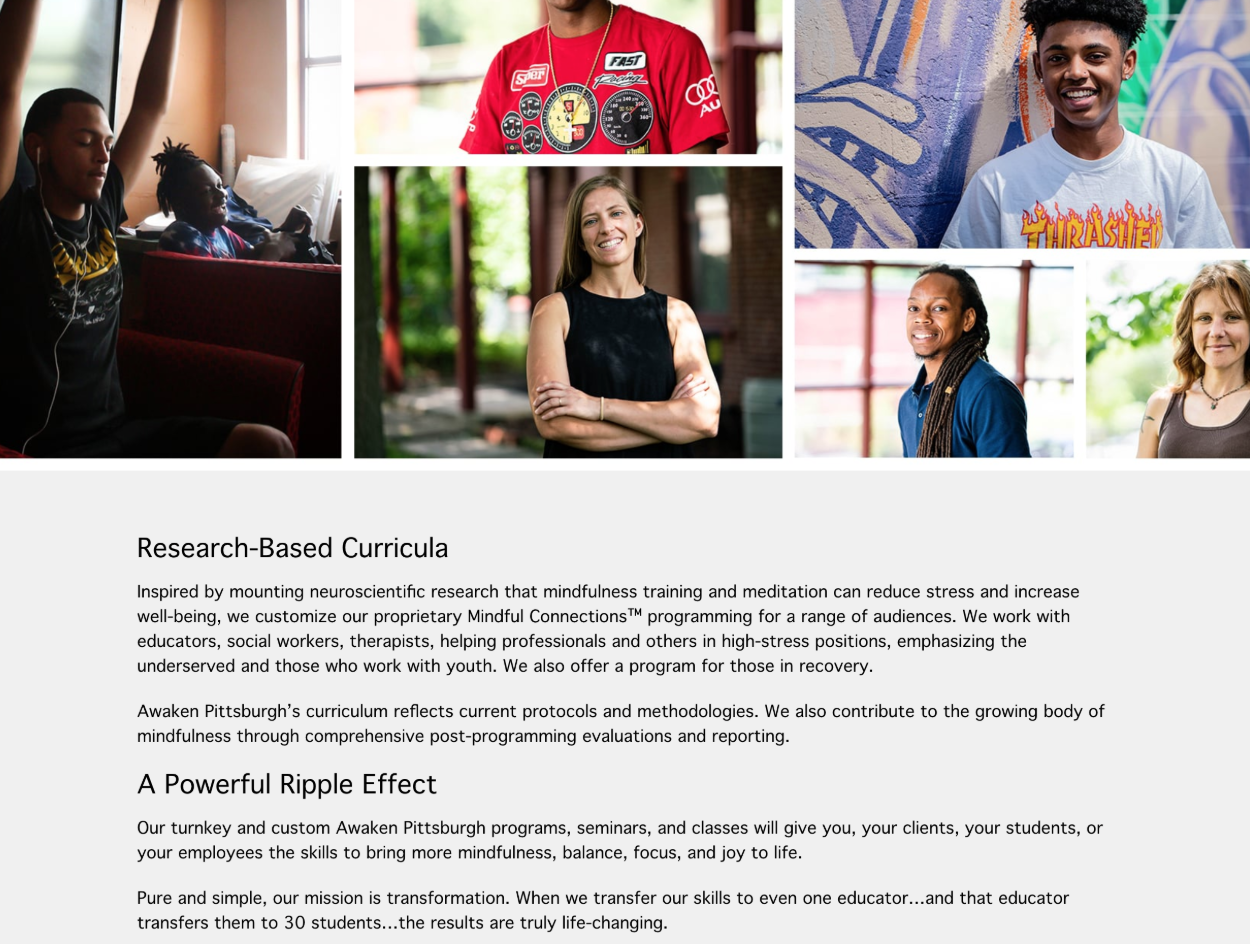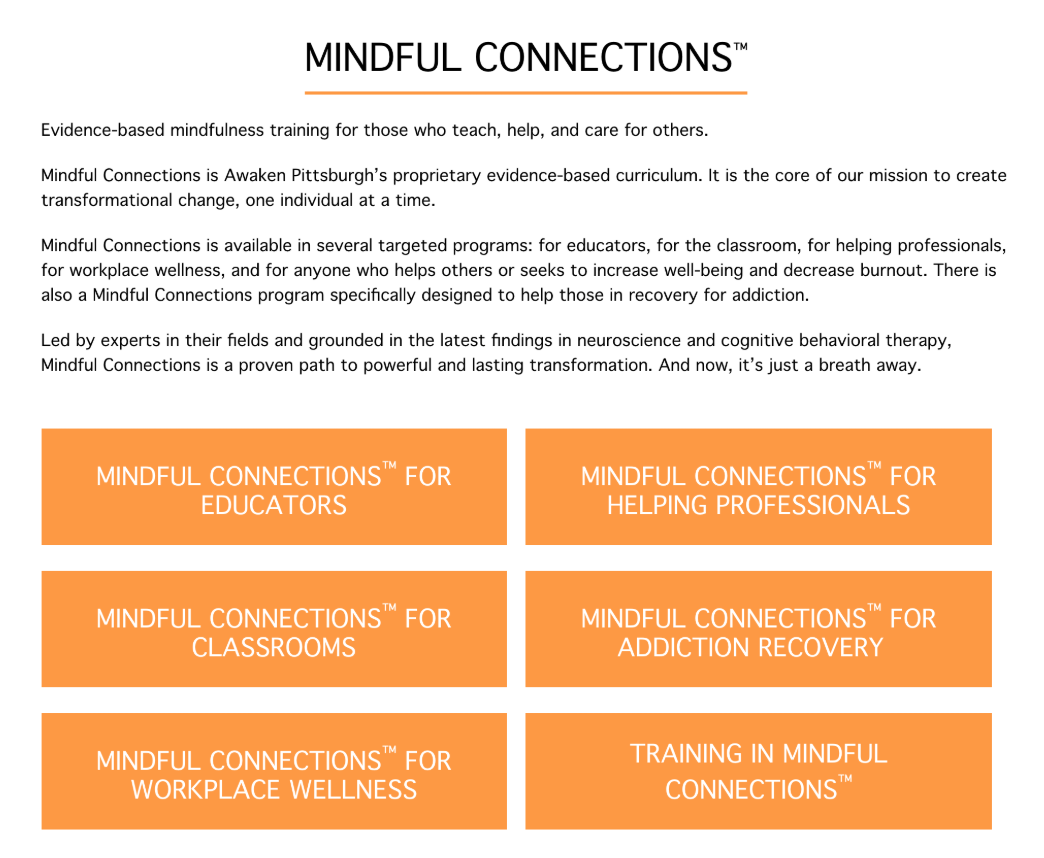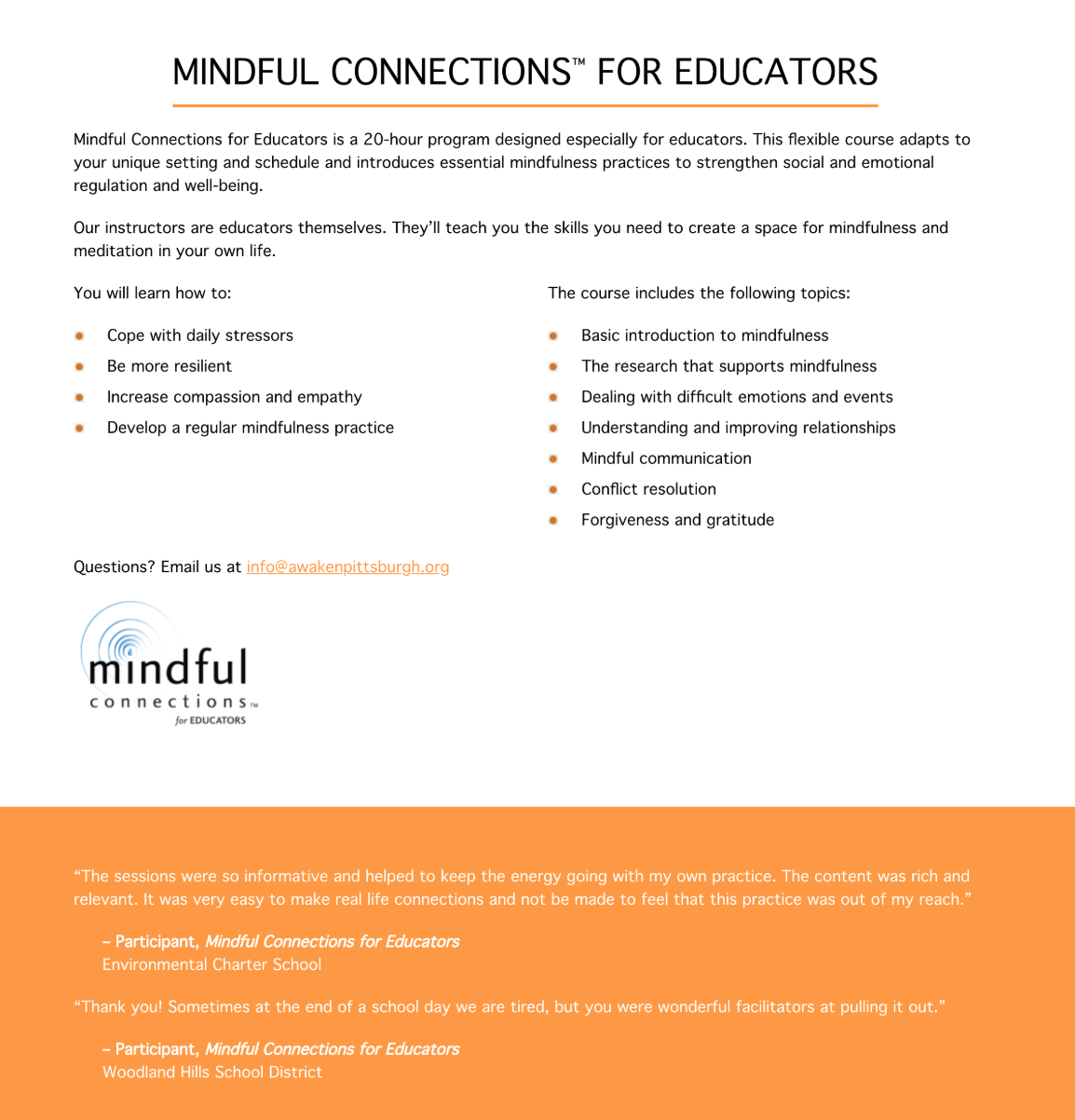 ---
Website Copy
LOGO:
AWAKEN PITTSBURGH
Connect Mindfully. Live Fully.
NAVIGATION TABS:
PROGRAMS
• Mindful Connections™
• Youth Curricula
• Custom Programs
ABOUT
• Our Story
• Mission, Vision & Values
• Leadership
• Partnerships
EVENTS
RESOURCES
• Online Resources
• Reading Suggestions
DONATE
NEWS
CONTACT

HOME PAGE:
HEADLINE:
Mindfulness in Action.
SUBHEAD:
Essential Mindfulness Training for Educators, Youth, Therapists, Employers, and Those in Helping or High-Stress Professions.

BODY COPY:
Awaken Pittsburgh is a non-profit organization committed to serving people, communities and society at large through evidence-based meditation and mindfulness programs. We are the region's "go-to" mindfulness resource.
We seek to create positive, systemic change in our backyards–and beyond–by teaching lifelong skills that have the power to transform lives. A proven-effective tool for reducing stress and even violence in today's culture, a regular mindfulness practice can also bring powerful, personal benefits to each of us, and to those we connect with every day.
Research-based curricula
Inspired by mounting neuroscientific research that mindfulness training and meditation can reduce stress and increase well-being, we customize our proprietary Mindful Connections programming for a range of audiences. We work with educators, social workers, therapists, helping professionals and others in high-stress positions, emphasizing the underserved and those who work with youth. We also offer a program for those in recovery.
Awaken Pittsburgh's curriculum reflects current protocols and methodologies. We also contribute to the growing body of mindfulness through comprehensive post-programming evaluations and reporting.
A powerful ripple effect
Our turnkey and custom Awaken Pittsburgh programs, seminars, and classes will give you, your clients, your students, or your employees the skills to bring more mindfulness, balance, focus, and joy to life.
Pure and simple, our mission is transformation. When we transfer our skills to even one educator…and that educator transfers them to 30 students…the results are truly life-changing.
(ICONS)
MINDFUL CONNECTIONS™
Mindful Connections™ is Awaken Pittsburgh's proprietary core curriculum. If you're an educator, a helping professional, in recovery or seeking a powerful workplace wellness program, there's a Mindful Connections program designed for your needs.
LEARN MORE>
ABOUT
Meet our founder, Dr. Stephanie Romero, EdD, and discover the people and the paths that have come together to become Awaken Pittsburgh.
LEARN MORE>
EVENTS
Awaken Pittsburgh typically brings programs to our clients' sites. But we also frequently host events that are open to all.
VIEW UPCOMING EVENTS>
DONATE
Awaken Pittsburgh is a 501(c)(3) non-profit organization that strongly relies on donations to support our work with participants and communities that may be unable to afford our services.
DONATE NOW>

(TESTIMONIAL AREA)
"I really feel this is another tool in my tool belt -- as crucial as the computers and software I use to actually do my project."
-Participant, Introduction to Mindfulness presentation
for Ignite Northside
LOGOS OF CLIENTS/PARTNERS
DISCLAIMER:
All rights reserved. All content (texts, trademarks, illustrations, photos, graphics, files, designs, arrangements etc.) of educational material provided by Awaken Pittsburgh is protected by copyright and/or other protective laws.

SECTION: PROGRAMS>MINDFUL CONNECTIONS
(HEADLINE)
Mindful Connections™
Evidence-based mindfulness training for those who teach, help, and care for others.
Mindful Connections™ is Awaken Pittsburgh's proprietary evidence-based curriculum. It is the core of our mission to create transformational change, one individual at a time.
Mindful Connections is available in several targeted programs: for educators, for the classroom, for helping professionals, for workplace wellness, and for anyone who helps others or seeks to increase well-being and decrease burnout. There is also a Mindful Connections program specifically designed to help those in recovery for addiction.
Led by experts in their fields and grounded in the latest findings in neuroscience and cognitive behavioral therapy, Mindful Connections is a proven path to powerful and lasting transformation. And now, it's just a breath away.

Mindful Connections for Educators™ [LINK TO ITS OWN PAGE]
Mindful Connections for Helping Professionals™ [LINK TO ITS OWN PAGE]
Mindful Connections for Classrooms™
[LINK TO ITS OWN PAGE ]
Mindful Connections for Addiction Recovery and Empowerment ™
[LINK TO ITS OWN PAGE]
Mindful Connections for Workplace Wellness™
[LINK TO ITS OWN PAGE]
Training in Mindful Connections™
[LINK TO ITS OWN PAGE]
SECTION: MINDFUL CONNECTIONS> FOR EDUCATORS
(HEADLINE)
Mindful Connections for Educators™
Mindful Connections for Educators is a 20-hour program designed especially for educators. This flexible course adapts to your unique setting and schedule and introduces essential mindfulness practices to strengthen social and emotional regulation and well-being.
Our instructors are educators themselves. They'll teach you the skills you need to create a space for mindfulness and meditation in your own life. They'll also teach you how to transfer your skills to the classroom to help your students become more confident, focused and grounded.
You will learn how to:
• Cope with daily stressors
• Be more resilient
• Increase compassion and empathy
• Develop a regular mindfulness practice
The course includes the following topics:
• Basic introduction to mindfulness
• The research that supports mindfulness
• Dealing with difficult emotions and events
• Understanding and improving relationships
• Mindful communication
• Conflict resolution
• Forgiveness and gratitude
Have questions? Email us! [LINK TO EMAIL/REGISTRATION]
(TESTIMONIAL AREA / Sidebar?)
"The sessions were so informative and helped to keep the energy going with my own practice. The content was rich and relevant. It was very easy to make real life connections and not be made to feel that this practice was out of my reach."
-Participant, Mindful Connections for Educators
Environmental Charter School
"Thank you! Sometimes at the end of a school day we are tired, but you were wonderful facilitators at pulling it out."
-Participant, Mindful Connections for Educators
Woodland Hills School District
UPCOMING SESSIONS
NEED REGULARLY UPDATED CONTENT HERE
Check our Upcoming Events tab! [LINK TO UPCOMING EVENTS]

ENROLL NOW [LINK TO EVENTBRITE]
SECTION: MINDFUL CONNECTIONS>HELPING PROFESSIONALS

(HEADLINE)
Mindful Connections for Helping Professionals™
Mindful Connections for Helping Professionals is Awaken Pittsburgh's proprietary, evidence-based 20-hour program designed especially for those who work in service to others or those whose profession may cause high levels of stress or burnout. It can be adapted to meet your specific setting and scheduling needs.
This intensive curriculum includes training in mindfulness meditation, emotional intelligence, communication, conflict resolution, and various resourcing and resiliency building skills.
You'll learn self-care strategies and greater self-awareness, improved impulse control, and greater social awareness, which will give you a new positive vision for your life.

You will learn how to:
• Decrease burnout and compassion fatigue
• Increase empathy
• Increase effective communication skills
• Decrease occupational stress
• Increase work satisfaction
• Increase well-being, health, and immunity
Questions? Email us at info@awakenpittsburgh.org
(TESTIMONIAL AREA / Sidebar?)
"The instructor and the workbook were excellent! I liked that the course was 9 weeks in length because it needed to be for a full understanding and use of mindfulness techniques and reflections."
-Participant, Mindful Connections for Helping Professionals
Children's Institute
"I think mindfulness will help me pause before reacting in my interactions with others. I also feel it will help me to be more aware and grateful. I believe it will help me to focus on my values and live with purpose. "
-Participant, Mindful Connections for Helping Professionals
Children's Institute
SECTION: MINDFUL CONNECTIONS>CLASSROOMS
Mindful Connections for Classrooms
Mindful Connections for Classrooms is an evidence-based program unique to Awaken Pittsburgh. Its goal is to guide staff in bringing meditation and mindfulness practices into their professional educational praxis after they have introduced it into their own lives through Mindful Connections™ for Educators.
We typically begin with a one-hour presentation to the parents and community about the program. For school staff, a 12-hour program will then be delivered to fit your professional development calendar and could be offered in a variety of structures and formats.
You will learn how to:
• Embody and model mindfulness in the classroom and with colleagues
• Lead age-appropriate mindfulness practices with students
• Help students understand and identify their stress responses
• Nurture students' positive self-talk and self-compassion
• Facilitate students' natural capacity to give and receive love, empathy, and compassion
• Integrate a trauma-informed approach to delivering mindfulness to students
• Design mindfulness-based lesson plan objectives

Questions? Email us at info@awakenpittsburgh.org

SECTION: MINDFUL CONNECTIONS>RECOVERY
(HEADLINE)
Mindful Connections for Addiction Recovery and Empowerment™ (MCARE)
MCARE™ is Awaken Pittsburgh's proprietary program designed especially for those in recovery and the therapists who work with them. Its holistic approach brings together mindfulness, meditation, cognitive therapy and neuroscience research in one targeted curriculum.
A powerful tool to complement any type of therapy, MCARE provides essential tools to help you and your patients manage emotional reactivity, cultivate resilience and face the world with confidence.
We'll introduce you to the practice of mindfulness -- a conscious state of awareness focused on the present moment that acknowledges emotions, thoughts and bodily sensations with curiosity, compassion and non-judgment. The course teaches mindfulness via secular meditation techniques that train the mind to be more focused and empower individuals to feel grounded and capable of better decision-making.
MCARE is an evidence-based program that encompasses:
Cognitive Therapy
MCARE draws upon the concepts of Compassion-Focused Therapy (CFT), Acceptance and Commitment Therapy (ACT) and Mindfulness-Based Emotional Intelligence (MBEI).
Neuroscience
Based on recent findings of neuroplasticity, MCARE starts from the premise that addiction is a habitual, changeable behavior pattern. We will examine the brain's three survival-based emotional systems: the threat system, the drive system and the soothing system. We will then teach you how balancing and regulating these systems through mindfulness training can re-route addictive behaviors and forge new neural pathways in the brain that promote healthy patterns of behavior.
You will learn how to:
• Reduce stress and anxiety
• Manage emotional triggers and compulsive behaviors
• Build emotional resilience
• Recognize unhealthy relationship patterns
• Resolve conflicts more effectively
• Make choices with clarity and confidence
• Develop compassion and empathy
• Deepen a sense of joy and purpose in life
• Activate mindfulness in everyday life
SECTION: MINDFUL CONNECTIONS>WORKPLACE WELLNESS
Mindful Connections for Workplace Wellness
In many workplaces, stress and burnout not only result in high turnover, they impair the organizations' ability to serve its customers and fulfill its core mission.
This five-week, thirteen-hour proprietary program targets supervisors and employees who are on the front lines in stressful job situations. It's designed to help them better cope with stress and compassion fatigue by building resilience and social and emotional intelligence and competencies through mindfulness awareness practices and essential self-care techniques.
You will learn how to:
• Become present now; pay attention in the moment
• Become aware of stress responses and triggers
• Cope with difficult emotions
• Create a practice for self-care and compassion
• Speak and listen mindfully
• Resolve conflicts
• Develop a daily practice that fosters kindness, compassion and more authentic relationships
Questions? Email us at info@awakenpittsburgh.org
SIDEBAR QUOTATIONS:
"I believe mindfulness will help me in my personal life. I don't like to be the one who typically apologizes, but this has changed a lot. I'm more likely to make the first move."
"Mindfulness will help me be a better manager/leader, husband and father."

"I really enjoyed the course and especially the half-day seminar. I believe I learned numerous things that can help me in both my personal and professional life."

-Participants, Mindful Connections for Workplace Wellness™
LOCATION
SECTION: MINDFUL CONNECTIONS>TRAINING IN MINDFUL CONNECTIONS
Training in Mindful Connections
Want to become a licensed Mindful Connections trainer within your school district?
Awaken Pittsburgh offers advanced training for teachers who have completed Mindful Connections for Educators, developed a regular mindfulness practice, and fully incorporated mindfulness into their own classrooms.
Through in-person training using Mindful Connections materials as a foundation of the teachings, you will learn to deliver the benefits of mindfulness to others in your district and gain an even deeper understanding of the practice of mindfulness and meditation both personally and in the classroom.
Questions? Email us at info@awakenpittsburgh.org
SECTION>YOUTH CURRICULA
(HEADLINE)
Mindfulness Programs for Youth
Helping young people become more resilient, self-aware and focused can have an incalculable impact on not only their own lives, but on our greater society.
Awaken Pittsburgh offers two proven, well-researched mindfulness meditation programs created especially for youth.
.b Program-Mindfulness in Schools
.b is a fun, engaging and powerful 10-session mindfulness course for students that teaches mindfulness as a whole life-skill.
The course is based on Mindfulness-based Stress Reduction (MBSR) and Mindfulness-based Cognitive Therapy (MBCT) and has been evaluated positively by the University of Cambridge and Oxford Brookes.
.b can be used in many different contexts and for a wide range of ages. Students will use it:
• to feel happier, calmer and more fulfilled
• to get along better with others
• to help them concentrate and learn better
• to help cope with stress and anxiety.
To maximize the impact of .b on students and on school culture, an expanded .b package could include:
• a lecture for parents
• a two-hour mindfulness workshop for teachers and staff
The .b classroom program may also be offered alone to accommodate time and budget constraints. For more information on the .b program, visit: https://mindfulnessinschools.org/
TO LEARN MORE OR ENROLL, CONTACT US AT info@awakenpittsburgh.org
Path of Freedom®, Youth
Awaken Pittsburgh is proud to offer Path of Freedom, a mindfulness-based emotional intelligence (MBEI)program designed for at-risk and incarcerated youth and adult prisoners developed by prison mindfulness pioneers Kate Crisp and Fleet Maull. Awaken Pittsburgh has adapted this program for youth in school and community settings, with the authors' permission.
The curriculum includes training in mindfulness meditation, emotional intelligence, communication, conflict resolution, and various resourcing and resiliency-building skills.
Through this program, young people will develop greater self-awareness, improved impulse control, and greater social awareness which, in turn, will give them a new positive vision for their lives. As with all Awaken Pittsburgh offerings, we present the program in a non-sectarian manner and it is open to participants of any faith and/or those who do not identify with a particular faith tradition.
Path of Freedom has been positively reviewed by many experts in the corrections field. For more information on this program, visit http://www.prisonmindfulness.org/projects/path-of-freedom/ [LINK TO PATH OF FREEDOM URL]

TO LEARN MORE OR ENROLL, CONTACT US AT info@awakenpittsburgh.org
SECTION> CUSTOM PROGRAMS
(HEADLINE)
Custom Mindfulness & Meditation Programs
Let us customize a program especially for you, your workplace or your organization.
The need for peace, relaxation and well-being is universal. Research has shown time and again that mindfulness can help us better manage the stresses of life. And we recognize that every individual, workplace and organization is unique.
Awaken Pittsburgh will work with you to assess your strengths and needs to create a program just for you.
It all starts with a free one-hour consultation. We'll listen to your specific circumstances and together, put together a customized program designed around your needs and your budget.
Your program may include one or more of the following: individual coaching, curriculum development, training materials, workshops, presentations, research studies and reports, etc.
Fees for Awaken Pittsburgh's custom programs are flexible and based on the fixed and variable costs involved in the research, development, and implementation phases.
(TESTIMONIALS)
"The best part of the workshop was learning there is an alternative to punitive consequences."
-Participant, Southern Tioga School District
"The restorative justice workshop sparked a curiosity about our integration process for my kids exiting partial programs and entering my inclusion class."
-Participant, Southern Tioga School District
CONTACT US info@awakenpittsburgh.org [LINK TO EMAIL]
to arrange a free one-hour consultation or for more information
SECTION: ABOUT US
(HEADLINE)
Connect Mindfully. Live Fully.
Mindfulness in action. Putting powerful tools into the hands--and minds--of those most in need. This is the goal of Awaken Pittsburgh.
Awaken Pittsburgh is a secular organization that draws upon the wisdom of mindfulness and meditation to serve a broad public. Our programs serve students, educators, those in recovery, social services and mental health professionals, corporations, and any other individual or organization seeking to gain clarity, focus, renewal, and improved productivity.
Our services include:
• Mindfulness training for social service providers and workers in stressful careers (either as professional development sessions or as ongoing support)
• Mindfulness training for educators to incorporate mindfulness into their classrooms or curricular areas
• Workshops and seminars on the research behind mindfulness and its benefits for your setting
• Presentations with practical application of mindfulness in everyday teaching, learning, and working
• Personalized pilot mindfulness programs and/or research studies for your setting
• Customized curricula for youth and/or adults, to meet your requirements
• Stress-reduction and self-care techniques for administration and staff members
• Mindfulness and meditation instruction and practice sessions
Our Story
Mission, Vision & Values
Leadership
Partnerships
[LINKS TO EACH PAGE OR SCROLL DOWN TO SECTION DEPENDING ON DESIGN]
SECTION> OUR STORY
(HEADLINE)
The Awaken Pittsburgh Story
So how did Awaken Pittsburgh come to be?
It all began with Stephanie. In 2015, Dr. Stephanie Romero, Ed.D., an educator and Buddhist practitioner, founded Awaken Pittsburgh after experiencing two profound "awakenings".
From Chicago Streets to Pittsburgh Schools
The first was in 2013, when Stephanie learned that her teacher, Acharya Adam Lobel (a teacher in the Shambhala Buddhist [LINK TO NATIONAL SHAMBHALA SITE] tradition) and Sakyong Mipham Rinpoche (current lineage holder of the Shambhala tradition) had participated in a peace conference in Chicago at which the Sakyong taught mindfulness and meditative practices to teenage gang members to help prevent violence and extract them from lives of violence.
The news that mindfulness could help at-risk youth had a profound impact on Stephanie, who was then developing a dissertation proposal in the School of Education at the University of Pittsburgh. It affirmed the importance of incorporating her own personal practice of mindfulness into her professional life as a scholar, teacher, colleague, and educator and moved her to revise her dissertation to focus on the topic of mindfulness in education.
We-PEACE Comes into Being
Stephanie's second awakening grew out of a 3-day conference she attended in May 2014 entitled "Being Brave: Is Enlightened Society Possible?" At the conference, led by Sakyong Mipham Rinpoche and Pema Chodron (an American Buddhist nun and author of numerous books on Buddhism), participants were challenged to create affinity groups through their local Shambhala Centers. Stephanie returned to Pittsburgh and worked with another educator, Michelle King, at the Pittsburgh Shambhala Center (http://pittsburgh.shambhala.org/), to create We-PEACE (Western Pennsylvania Educators for Awareness, Compassion and Empathy). For four years We-PEACE hosted monthly meetings for interested educators, administrators, and support staff to bring the transformational power of mindfulness to education systems in Western Pennsylvania.
Awaken Pittsburgh is the perfect convergence of people, places and methodologies. It is a secular organization, but grounded in the principles of Buddhism, of which Stephanie has been a practitioner since 2004.
SECTION> OUR VISION, VALUES & MISSION
(HEADLINE)
Our Vision, Values & Mission
Mission
Awaken Pittsburgh promotes personal and community well-being through mindfulness programs and compassionate actions.
Vision
Our vision is a Pittsburgh region where people are in touch with their basic goodness and can cultivate the confidence and dignity to create a more just and enlightened world.
Guiding Principles
We are committed to…
• Providing leadership in mindfulness education in our region
• Offering services that uncover the basic goodness, innate kindness, resilience and dignity in individuals, organizations and communities
• Communicating the strength of mindfulness in ways that honor its spiritual roots
• Engaging in business practices that maintain the highest ethical standards and are grounded in mindfulness, generosity, humor and joy
• Diversity, inclusion, and working to build healthy and just communities within an anti-racism framework
• Fostering collaboration that responds compassionately to challenges and invites diverse voices to participate in awakened change
• Promoting social justice, non-aggression, environmental awareness, individual self-care and collective healing
• Creating enlightened communities that are gentle, inquisitive, warm and fearless

SECTION: LEADERSHIP
(HEADLINE)
Our Leadership Team
STEPHANIE M. ROMERO, Ed.D.
Founder & Executive Director
Stephanie is an educator with 20+ years of experience teaching elementary, middle school, high school and college students. She has been a meditator and mindfulness practitioner for more than 15 years. In 2013, seeking to bring others the same benefits she was experiencing, Stephanie was trained in the Path of Freedom Mindfulness Curriculum, which she delivered through the HOPE pre-release program in the Allegheny County Jail. Stephanie's dissertation was the culmination of three years of research into mindfulness in education. She is a member of the University of Pittsburgh's Center for Mindfulness and Consciousness Studies.
SANDRA QUIÑONES, Ph.D.
Board Member
Sandra is an Assistant Professor in the Department of Instruction and Leadership in Education at Duquesne University. A practitioner and advocate of mindfulness in education, she participated in Cultivating Awareness and Resilience in Education (CARE), a professional development course for teachers. She chronicles her journey with mindfulness in a book chapter titled Begin With Yourself: Using Self-Study Methodology in the Process of Cultivating Mindfulness. This chapter forms part of a co-edited volume in the Self-Study of Teaching and Teacher Education Practices series published by Springer in 2018.

JANE HARTER
Board Treasurer

Jane brings more than 40 years of organizational and budgeting expertise to Awaken Pittsburgh. She has served in non-profits developing human service programs, in government administration and in the co-operative movement. She has been a mindfulness practitioner for 20 years, applying her skills when called upon to coordinate innovative practice and teaching engagements locally and in New England. Jane holds an MA from NYU and is committed to helping Awaken Pittsburgh develop responsive, resilient, forward-thinking ways of being in this world.

ANN TRONDLE-PRICE
Board Secretary
Ann is a branding and advertising professional with decades of experience as an award-winning advertising agency copywriter and creative director. She has worked on significant projects for Pennsylvania Tourism, the H.J. Heinz Company, Fallingwater, Bayer Corporation, Carnegie-Mellon University, the Andy Warhol Museum and countless other local and national brands. She has been a meditation practitioner for more than ten years.
HOLLY MCINTOSH
Board Member
NEED BIO
CARRIE MCCANN, MSW
Program Manager
Carrie has more than a decade of experience working with youth and has been a social worker and program manager for 6+ years. She has been trained in Restorative Justice with a focus on court-involved youth and adults as well as education system reform. Carrie has completed training through the Institute for Integrative Nutrition to deepen her education and create social impact through holistic wellness for individuals and communities.
DANAE CLARK, Ph.D.
Program Manager
Danae is an educator and nonprofit consultant who has provided assistance to organizations in the environmental, creative and social services sectors. She is currently working on mindfulness-based curriculum to be offered to adults recovering from addiction.

DAWN LEHMAN
Program Manager
Dawn has trained countless people to mediate conflicts has conducted over 100 restorative dialogues ranging from minor school infractions to violent felonies. She is a Professional Coach, helping people live in alignment with their ideals, and enjoys engaging others to think about how organizations and communities can best represent shared values. Dawn has practiced mindfulness in the tradition of Thich Naht Hanh for twenty years and holds a B.A. in Social Work and an M.A. in Conflict Transformation.
STEPHEN SUSS
Program Manager
NEED BIO
COMMUNITY ADVISORY BOARD
ADAM LOBEL, D.D.
Adam received his doctorate from Harvard University and is the current Kalapa Acharya in the Shambhala Buddhist tradition. Adam is responsible for Shambhala student curriculum, path development and teacher training. He began the path of meditation when he was 16 years old and has traveled in Tibet, Nepal, and India where he studied Buddhism with masters from various traditions.

FITZHUGH SHAW
Fitzhugh is completing a Masters of Arts in Food Studies at Carlow University. He served as the director of the Pittsburgh Shambhala Meditation Center for three years and is a student of Sakyong Mipham Rinpoche.
SECTION> CLIENTS
(HEADLINE)
Our Clients
LOGOS/INTRO
SECTION> NEWS
(HEADLINE)
Awaken Pittsburgh in the News
(LINKS)
SECTION: RESOURCES>ONLINE RESOURCES
(HEADLINE)
Online Resources
There are many online resources and apps that can support your personal meditation and mindfulness practice.
Some great places to start:
Headspace
Offers online guided meditations, research, videos, support, etc. or can be uploaded to your phone as an app. Also has a version for children/youth. https://www.headspace.com/
The Insight Timer
Offers a helpful timer to use with meditation and great guided meditations as well. Free download for your phone or online as well. - https://insighttimer.com/

Additional Resources to Support Your Practice
http://plumvillage.org/mindfulness-practice/mindfulness-software/
CONTACT US [LINK TO info@awakenpittsburgh.org] for a free one-hour consultation to discuss how Awaken Pittsburgh can support your organization's success through secular mindfulness and meditation.
SECTION: RESOURCES>READING SUGGESTIONS
(HEADLINE)
Reading Suggestions
(NOTE TO STEPH: DO YOU WANT TO LINK TO AMAZON OR MOE FOR THESE TITLES?)
When Things Fall Apart: Heart Advice for Difficult Times. (1996) by Pema Chodron
Pema Chodron, a nun in the Shambhala tradition, is one of the most beloved and prolific authors of books about meditation.
Mindfulness for Beginners: Reclaiming the Present Moment—and Your Life. (2012)Jby Jon Kabat-Zinn
Jon Kabat-Zinn is father of the secular, medicalized Mindfulness movement. This book is his basic introduction to mindfulness.
Turning the Mind into an Ally. (2003) by Sakyong Mipham Rinpoche
Sakyong Mipham, Rinpoche is the head of Shambhala International meditation centers. In this book, he introduces how to work with our minds through meditation.
Mindful (www.mindful.org/ Books/creating-a-mindful-library)
This magazine about mindfulness contains a wonderful online library to help you continue your journey.
CONTACT US [LINK TO EMAIL] for a free one-hour consultation to discuss how Awaken Pittsburgh can support your organization's success through secular mindfulness and meditation.
SECTION: DONATE
(HEADLINE)
Donations: Essential to Awaken Pittsburgh's Mission
Awaken Pittsburgh is a registered 501(C)(3) nonprofit organization. Donations are tax deductible as allowed by law. As a non-profit organization that works with many low-income participants in our local community, we are grateful for donations in any amount.
Your generosity will support our work in communities and organizations that could not otherwise afford mindfulness programs.
Whether you donate $10, $20, $50, $100 or more, your donation can make a life-changing impact on our community.
Thank you for considering becoming an Awaken Pittsburgh donor.
By Check
Please make your check payable to "Awaken Pittsburgh" and mail to:
Awaken Pittsburgh
733 N. Highland Ave.
Rear Carriage House
Pittsburgh, PA 15206
PayPal

(INSERT LINK)
SECTION: CONTACT
(HEADLINE)
Contact Awaken Pittsburgh
Thank you for your interest in Awaken Pittsburgh.
Interested in a free consultation to learn how we can support your school, practice, patients, business or organization?
Have a question?
Want to join our mailing list?
We look forward to hearing from you.
Join Our Mailing List
(INSERT EMAIL SIGN-UP FORM)
Send Us an Inquiry
(INSERT QUESTION FORM)
Send us Snail Mail
Awaken Pittsburgh
733 N. Highland Ave.
Rear Carriage House
Pittsburgh, PA 15206
---

Winthrop Center/MP Boston
Agency: Ronin Advertising Group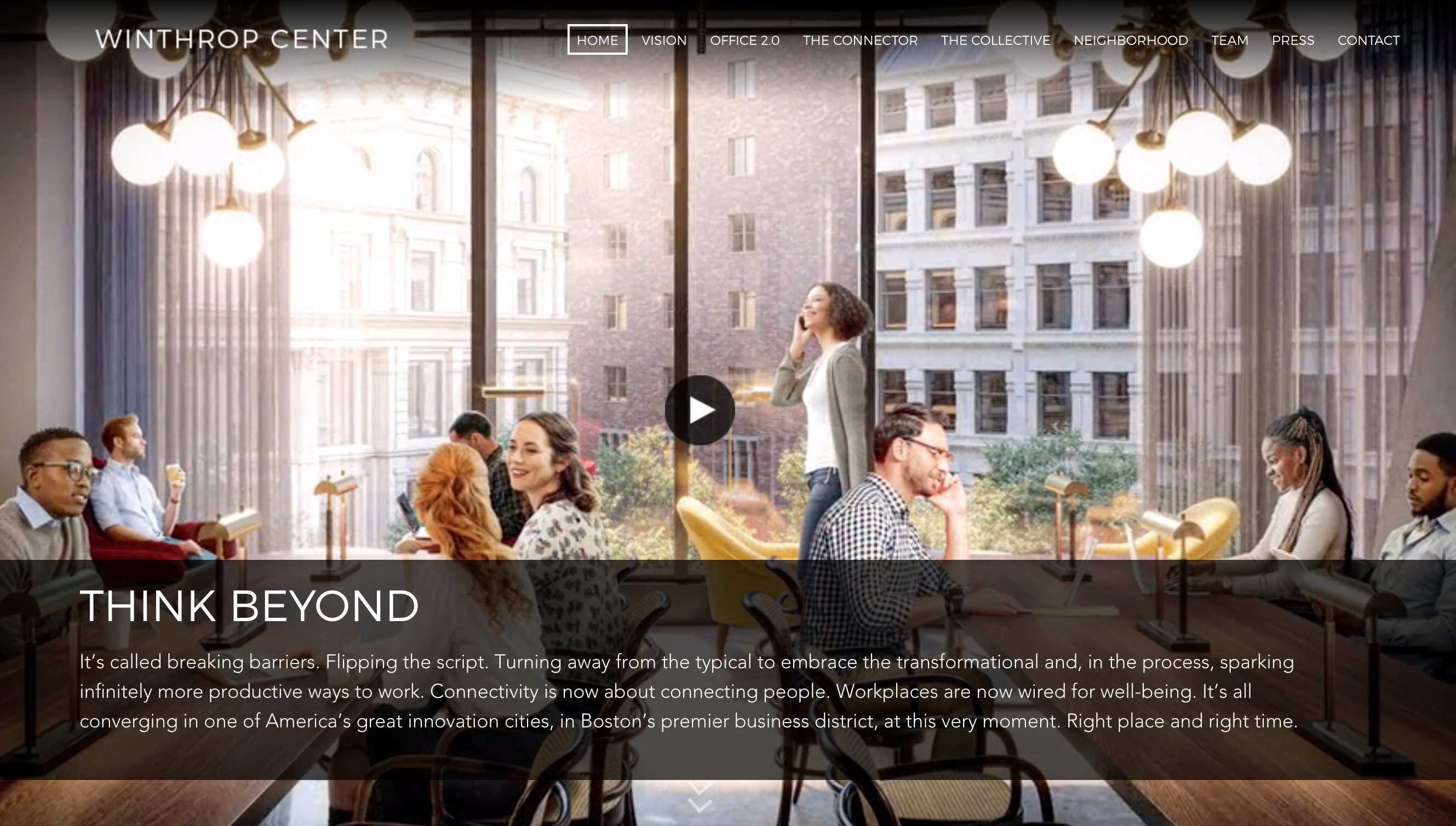 ---
WINTHROP CENTER
Web Copy Revisions
April 4, 2019
HOME PAGE:

WINTHROP CENTER
THINK BEYOND
It's called breaking barriers. Flipping the script. Turning away from the typical to embrace the transformational and in the process, sparking infinite, unimagined new ways to work.
Connectivity is now about connecting people. Workplaces are now wired for wellbeing. It's all converging in one of America's great innovation cities, in Boston's premier business district, at this very moment. Right place and right time indeed.
(GROUNDBREAKING VIDEO CAPTION)
"This project will set the tone for how we want to continue to move the city of Boston."
Mayor Martin J. Walsh
Winthrop Center Groundbreaking
October 24, 2018
VISION PAGE:
BEYOND
ALL LIMITATIONS
OR
ENVISION
BEYOND
All eyes are on Boston, where this bold new approach to responsible, resourceful and renewable office space for the 21st century is being born. The largest Passive House office building in the world, Winthrop Center is pushing the outer limits of how a commercial building can not only serve its inhabitants, but also a higher purpose and a greater good. The new century demanded it, so we built it.
(FERNANDEZ VIDEO CAPTION)
"Office environments must be designed with a responsibility to the planet's resources."
MIT Professor John Fernandez
Founder, Urban Metabolism Group
(SUBHEAD)
The Largest Passive House Office Project in the World.
Beyond LEED Platinum. Beyond Well Gold. Beyond Wired Silver.
With International Passive House certification, Winthrop Center meets the most rigorous global standards for energy and efficiency. Through leading-edge envelope construction, Passive House reduces energy consumption by as much as 80% and delivers dramatically improved thermal comfort for every occupant.
But Passive House is just the beginning. Like no other office building on earth, Winthrop Center works to forge unexpected connections. Whether it's uniting employees with each other, a healthier lifestyle, their highest aspirations or the very best experiences in Boston, Winthrop's next-gen design and proprietary connexIQ operating system are powerful magnets for today's top talent.
CERTIFICATION LOGOS + CONNEXIQ LOGO
OFFICE 2.0 PAGE
BEYOND
THE BOX
OR
DESIGN
BEYOND
T is for transformational. The unique T-shaped floorplate delivers unlimited interior possibilities because it literally breaks free of the box. 95% of all work stations are within 35 feet from floor-to-ceiling windows (and stunning city views). The layout supports intimate workplace neighborhoods in each wing of the T. Protected terraces on every floor bring the outdoors in. It's not only workable, it's work-changing.
(SUBHEAD)
Intentional Design for Creativity & Productivity
• Voluminous 12' high space, flat continuous ceiling everywhere and 10' high glass throughout
• 37,800 rsf floors, versatile for both high and low density uses with 1,000 linear feet of perimeter, allowing 95% of seats to be within 35' of a window
• Exceptional column spacing and offset building core to promote natural planning of "neighborhoods" around a centralized town hall and create a 240' by 50' throughway from Federal to Devonshire Streets
• Private outdoor terrace on every floor overlooking Winthrop Square Park with soaring 25' double height nearby, if tenant so desires
(REETIKA VIDEO)
"The unconventional T-shaped floor plate is an amazing opportunity to think outside the box—literally."
Reetika Vijay
Principal, IA Boston

(SHERRY VIDEO)
"The wide-open space you get with the floorplate shape means you can create a real wow effect."
Sherry Niazmand
Visnick & Caulfield
(MARC VIDEO)
"The covered private terraces are a differentiator. Think about how rare it is in downtown Boston to be able to step outside your office and smell the salt air."
Marc Margulies
Principal, Margulies Perruzzi Architects
(ELIZABETH VIDEO)
"The layout allows for workplace-centric 'neighborhoods' on a human scale that bring people together. These moments and connections are what spark creativity and innovation."
Elizabeth Lowrey
Elkus Manfredi Architects
THE CONNECTOR SECTION
BEYOND
THESE WALLS
OR
CONNECT
BEYOND
OR
ACCESS
BEYOND

The Connector is Winthrop Center's gift to the people. A multi-floor public gathering space and thruway, the Connector is designed to resonate on an emotional level with everyone who interacts with it. Plug into the energy. Power down post-work. In ways large and small, this space educates, entertains and engages, seven days a week, by connecting people to the best minds, music, culture and digital trailblazing Boston has to offer. It's unprecedented.
(CONNECTOR VIDEO)
HAVE A LOOK AROUND
THE CLUB SECTION
BEYOND
WORK/PLAY
OR
WORK/PLAY
BEYOND

How does today's elite talent want to work? How do they connect work with play?
An artful combination of "under one roof" and "in another universe", Winthrop Center's 24,000 sq. ft. Club checks every box, for every individual. Here, in the stunning heart of the building, a world-class Fitness Center keeps employees connected, fit and well. Ongoing social events bring curated local food, arts and cultural experiences to their lives—and devices. Introverts find sanctuary. Extroverts find friends. The Club is both right downstairs and a radical departure. It works on every level.
THE VIEWS SECTION

BEYOND
THE CORNER OFFICE
OR
VIEW
BEYOND
OR
BEHOLD
BEYOND
Unobstructed sightlines. 95% of workstations no further than 35' from a 00-ft. window. Now everyone has an office with a view. Unrivaled panoramic vistas include (NEED LANDMARK VIEWS/BUILDINGS). And after all, Boston's seasons, from sunshine to snowfalls, have always inspired greatness.
THE NEIGHBORHOOD SECTION
BEYOND
CENTRAL
It doesn't get any more central than the heart of the Financial District in downtown Boston. Here you can feel the new business renaissance that's reshaping the city, fueled by the region's world-class academic powerhouses. Close to the Common and steps from all MBTA lines and Winthrop Square Park, this is downtown's only new construction. Want to do big things? Choose a big address.
---

Four Seasons Private Residences at 706 Mission, San Francisco
Agency: Ronin Advertising Group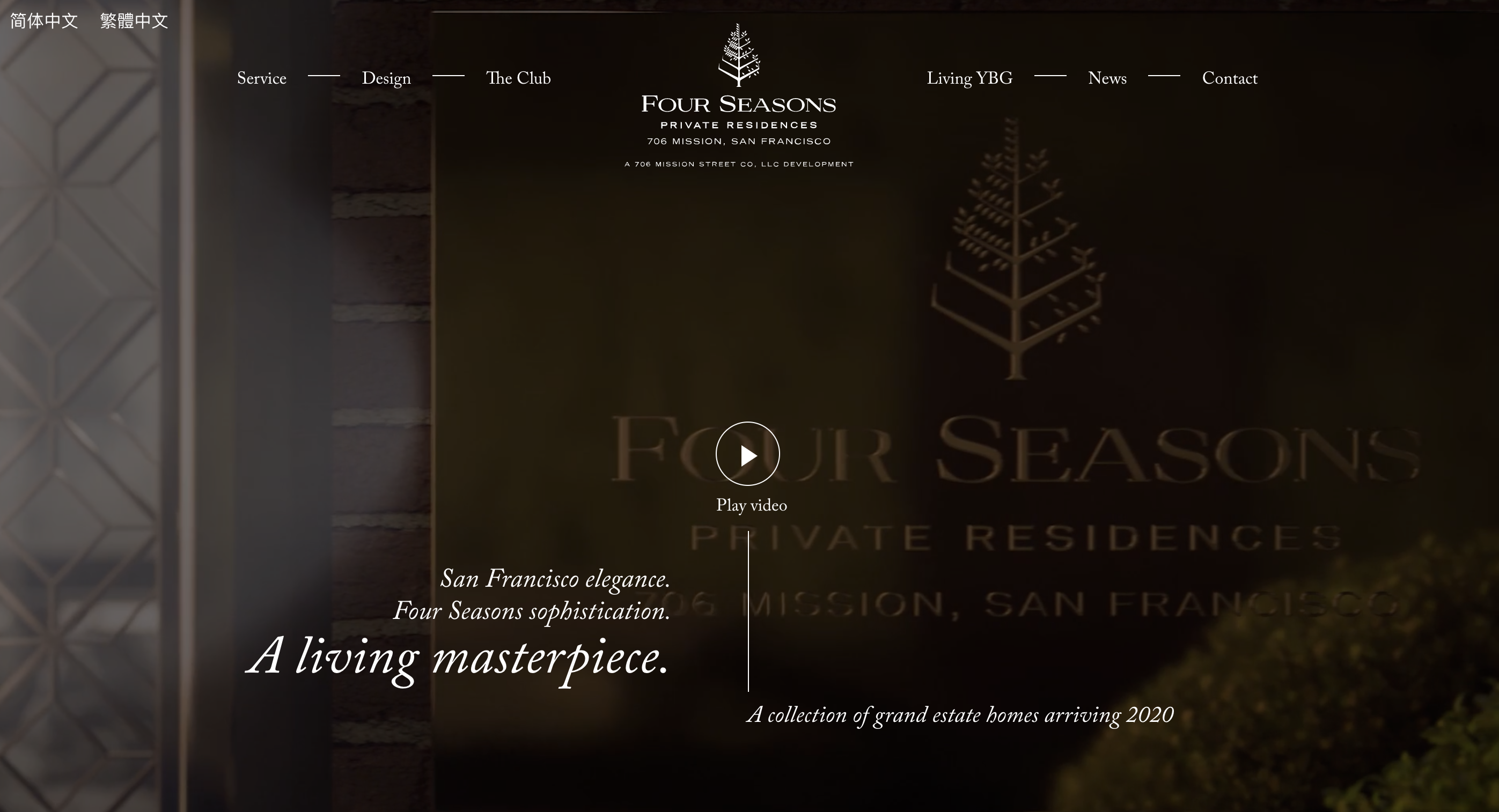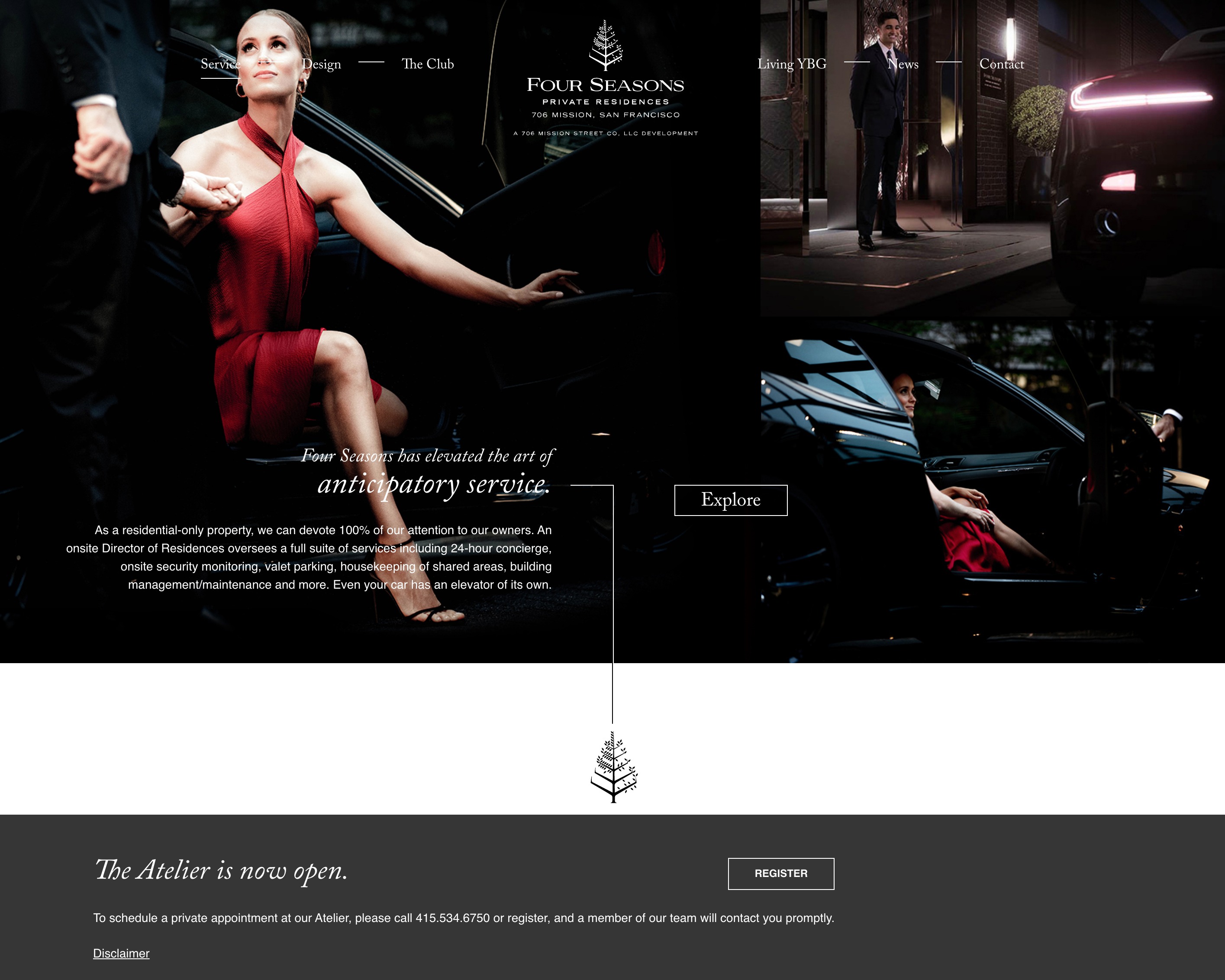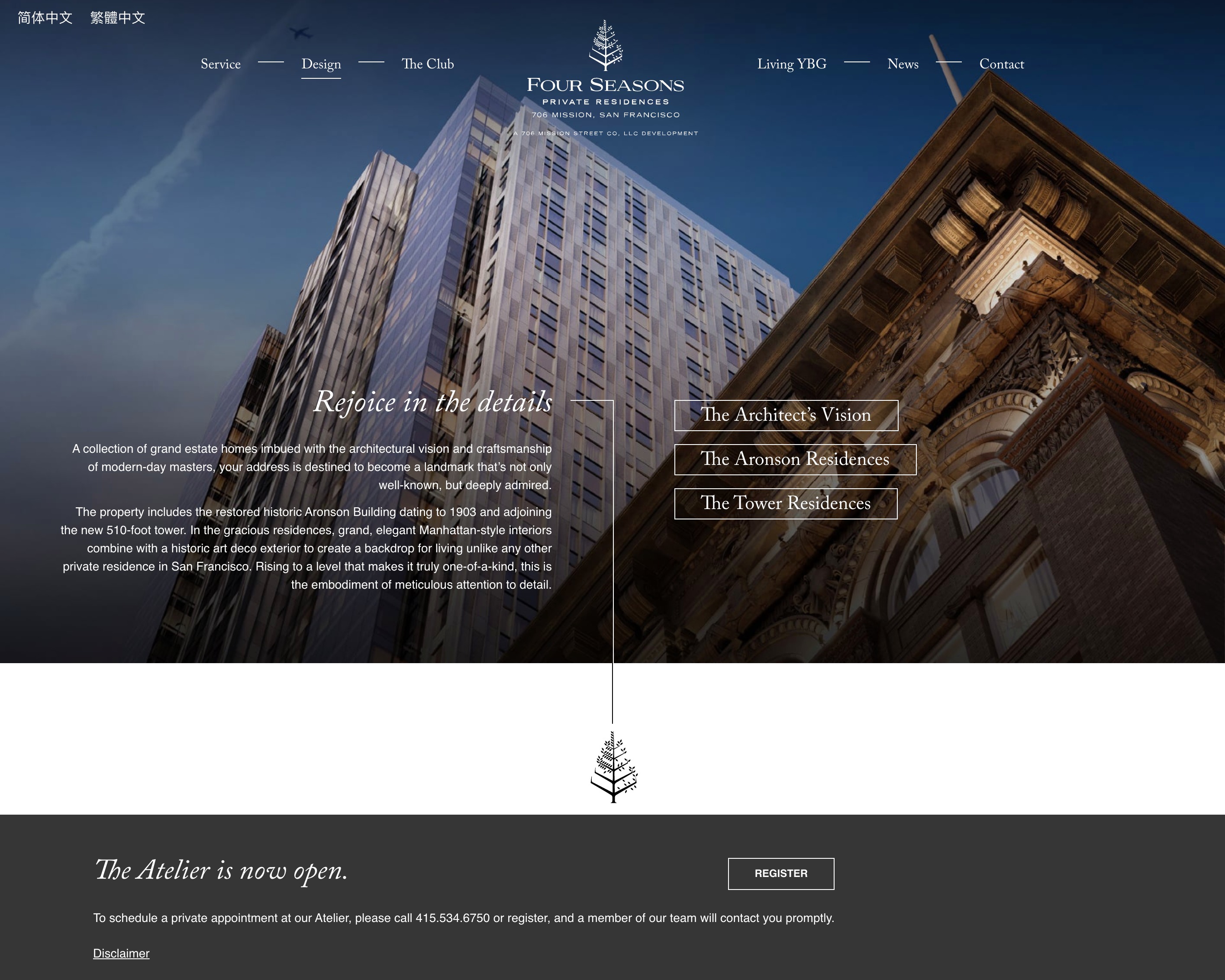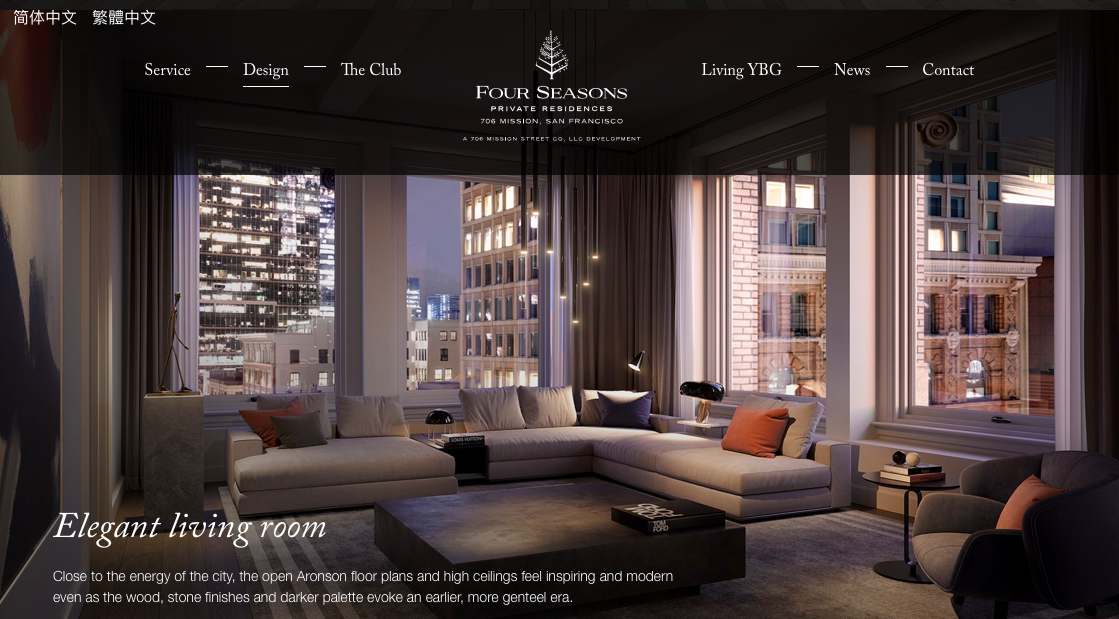 ---
HOME PAGE:
(Headline)
SAN FRANCISCO ELEGANCE
FOUR SEASONS SOPHISTICATION
A living masterpiece.
(Subhead)
A collection of grand estate homes arriving 2020
INTERIOR PAGE>SERVICE
(Headline)
Four Seasons has elevated the art of anticipatory service.
(Copy)
As a residential-only property, we can devote 100% of our attention to our owners. An onsite Director of Residences oversees a full suite of services including 24-hour concierge, onsite security monitoring, valet parking, housekeeping of shared areas, building management/maintenance and more. Even your car has an elevator of its own.
INTERIOR PAGE> DESIGN
(Headline)
Rejoice in the Details
A collection of grand estate homes imbued with the architectural vision and craftsmanship of modern-day masters, your address is destined to become a landmark that's well-known and deeply admired.
The property includes the restored 10-story historic Aronson Building, dating to 1903 and adjoining the new 510-foot tower.
In the gracious residences, grand, elegant Manhattan-style interiors combine with a historic art deco exterior to create a backdrop for living unlike any other private residence in in San Francisco. Rising to a level that makes it truly one-of-a-kind, this is the embodiment of meticulous attention to detail.
-Aronson Residences
Floorplans
Features/Amenities
-Tower Residences
Floorplans
Features/Amenities
"The tower's undulating form and top reflects the diverse character of San Francisco's urban forms in the area. The glass and masonry volumes were inspired by San Francisco's rich historic masonry and modern glass tower vernacular."
-Glenn Rescalvo
Lead Architect
INTERIOR PAGE> THE ARONSON RESIDENCES
The Historic Aronson Residences
Nestled atop the early-1900's Aronson Building, these 18 residences are warm and intimate with immersive museum and garden views.
The Grand Entry Experience
Elegant Living Room
Gracious Dining Room
Heritage Kitchen
The Aronson Master Bath
Pampering Master Bath
INTERIOR PAGE> THE TOWER RESIDENCES
The Gracious Tower Residences
In the Tower Residences, floor-to-ceiling glass, high ceilings and sweeping floor plans make the stunning 360°panoramic views the focus of the living space.
The "Statement" Entrance
Dramatic Living Room
Hand-Crafted Kitchen
Serene Master Bedroom
Spa-Like Master Bath
INTERIOR PAGE>THE CLUB
Inspiring Serenity, Joy and Play
THE CLUB
A cornerstone of your luxury lifestyle will include The Club—an 8,690 sq. ft. richly appointed amenity floor on the tower's fifth level for the exclusive use of our residents and their guests. Staffed by a Club Concierge, the space is a warm and welcoming place to gather, attend wine tastings, host an event and, most of all, feel part of your community.
Amenities include a lounge, outdoor terrace, bar, dining room, game room, library and world-class fitness and wellness center.
GALLERY PAGES> THE CLUB
Intimate, Staffed Bar
Fully Equipped Games Room
Private Library
Grand Outdoor Terrace
INTERIOR PAGE> PRESS
The Latest News
INTERIOR PAGE> CONTACT
We Welcome Your Inquiries
---