Carnegie Mellon University Integrated Innovation Institute (iii)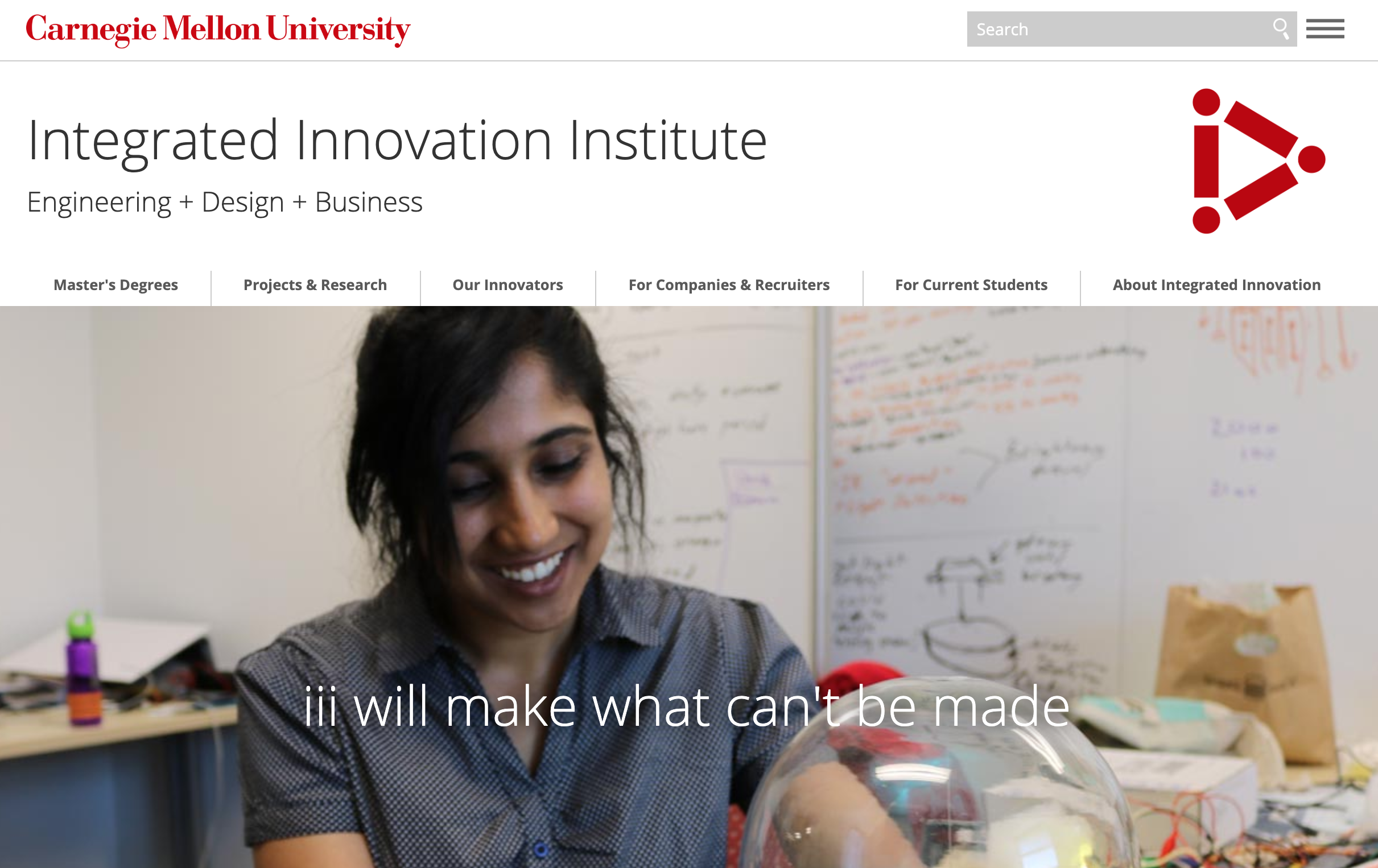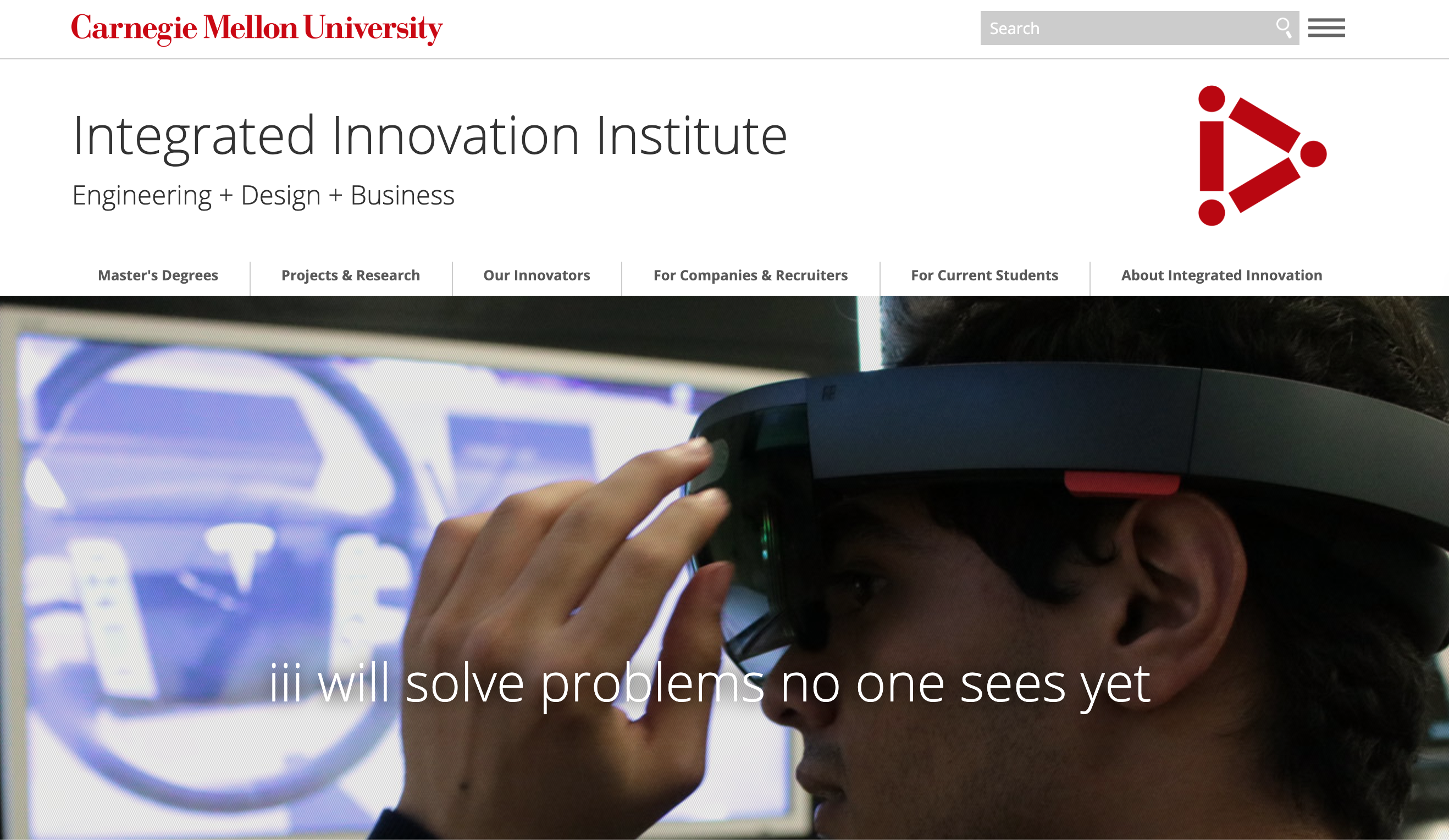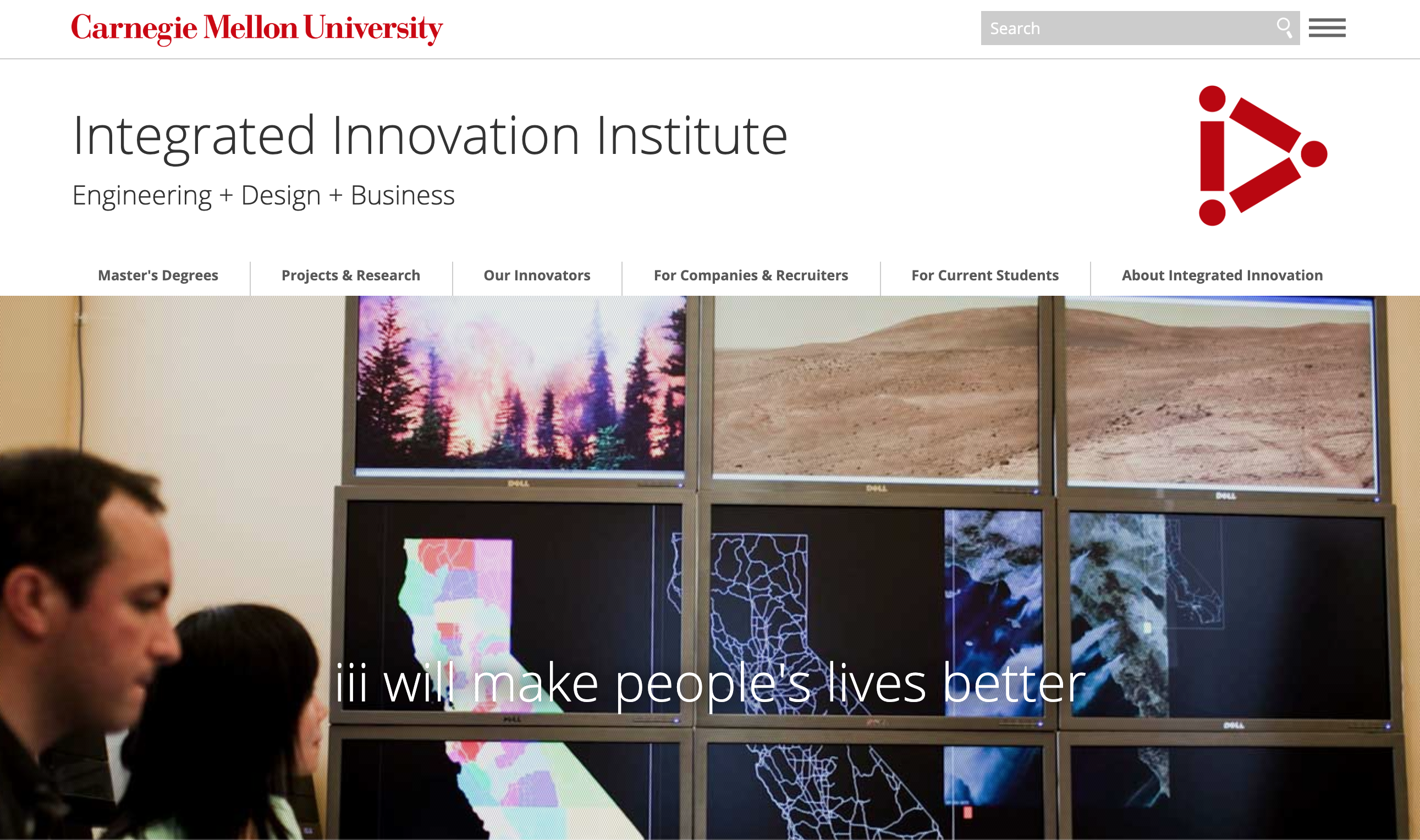 ---
CARNEGIE MELLON
III Concepts
May 11, 2017

NEXT/EDGE
Be what's next.
Find what's next.
Find your edge. (AS IN FIND YOUR COMPETITIVE EDGE/NICHE AND ALSO GO OUT TO THE EDGE OF THE MARKET)
Push your edge.

AHEAD/FORWARD
Go ahead. (AS IN, GO AHEAD AND CHANGE THE WORLD, AND ALSO GO AHEAD OF WHAT'S NEXT)
Always ahead. (implies becoming a leader but also getting in front of trends/new inventions)
Forward fast. (flipping "Fast forward")
Always forward.

MY TWIST ON SAMSUNG "WHAT CAN'T BE DONE" LINE, WHICH IS "WE MAKE WHAT CAN'T BE MADE SO YOU CAN DO WHAT CAN'T BE DONE":

See what others don't. Make what others can't.
See what can't be seen. Do what can't be done.

"PRODUCT"
THE TYPICAL III STUDENT WANTS TO DEVELOP NEW PRODUCTS AND WITH THIS CONCEPT, III STUDENT BECOMES THE PRODUCT OF THE PROGRAM
VISUAL: BIG, HERO PICTURE OF A STUDENT/STUDENTS AS PART OF A CASE STUDY?
Bruno Selva
Product: Botfarm
(HEADLINES)
We Make Winners.
We Make What No One Else Can.
We Make Next Big Things.
Meet the Product of a Groundbreaking Program.
We Produce the People Whose Products Change the World.
Our Products are World-Changing.
We Create World-Changing Products.
We Launch the Most Amazing Products in the World.

BRINGING OUT WHAT'S INSIDE THE STUDENT AND THE PROGRAM
Greatness inside.
There's greatness inside.
There's greatness in here.

RE-____
Remake you.
Rebuild you.
Rethink you.
Redraw you.
Reengineer you.
Resell you.
Remarket you.
Remake yourself.
Rebuild yourself.
Rethink yourself.
Redraw yourself.
Rengineer yourself.
Resell yourself.
Remarket yourself.

III AS IN "I"
III will change the world.
III will make what can't be made.
III will solve problems that no one sees yet.
III will make people's lives better.
III will invent it myself.

QUIRKY METAPHORS LIKE GENERAL ASSEMBLY
DOUBLE MEANING: THE MAJOR ITSELF, AND THE END RESULT YOU CREATE
Unheard-of.
Not possible.
Over-reacher.
Crazy talk.
Say whaaaaat?
Not in a million years.
---