CMU Qatar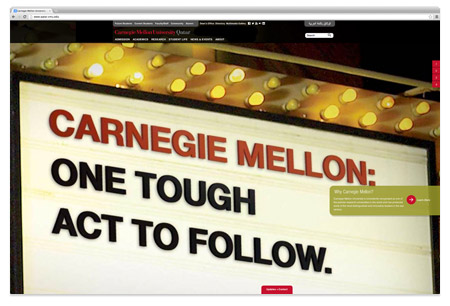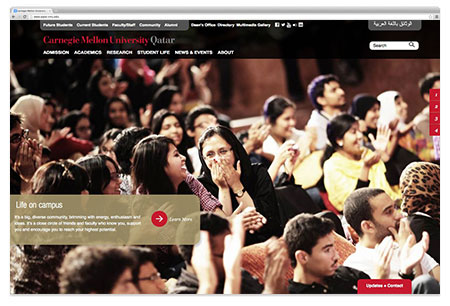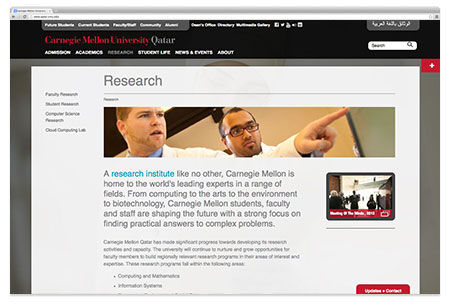 ---
H1:
THE STUDENT CENTER
This is a very special and rewarding time. You'll form lifelong friendships, share common experiences and seek out new and enlightening paths as you move ever closer to your goals. At Carnegie Mellon University, we believe that a nurturing, supportive and enriching environment is key to student life and we urge you to take advantage of the many opportunities that are open to you here on campus.
H1:
FACULTY
The faculty members at Carnegie Mellon University in Qatar enjoy international acclaim in their fields. They are working instructors who involve students in real-world research that currently impacts and will continue to impact modern society on many levels.
The esteemed faculty at the Qatar campus includes the following outstanding instructors…
H1:
FACILITIES
Our current facility is temporary. In the coming year, Carnegie Mellon University's permanent learning and research facilities in Education City will begin to take shape, and our vision is clear. We are committed to building a complex that will be the most technologically evolved in the region. Our new facilities will maximize student interaction and productivity in an environment that is both aesthetically pleasing and inspiring.
H1:
The Education City: An Investment in the Future of the Region
The Education City, a 2,400-acre complex in Doha, Qatar, was founded in 1997 by Her Highness Sheikha Mouzah Bint Nasser Al Missnet, Consort of His Highness, the Emir.
The Education City's state-of-the-art facilities and forward-thinking philosophies are enticing some of the world's top universities to open branch campuses here. Carnegie Mellon University's Computer Science and Business undergraduate degree programs join the Weill Cornell Medical College in Qatar and VCU-Qatar College of Design Arts.
The mission of the Education City is clearly defined: to prepare world-class graduates capable of assuming responsible and high-ranking professional and leadership positions throughout Qatar and the region. The Education City fosters independent thinking, creative problem solving and effective communication skills in service to its commitment to academic excellence and personal integrity.
SIDEBAR:
Quotation from Her Highness Sheikha Moza bint Nasser.
---