Four Seasons Private Residences at 706 Mission, San Francisco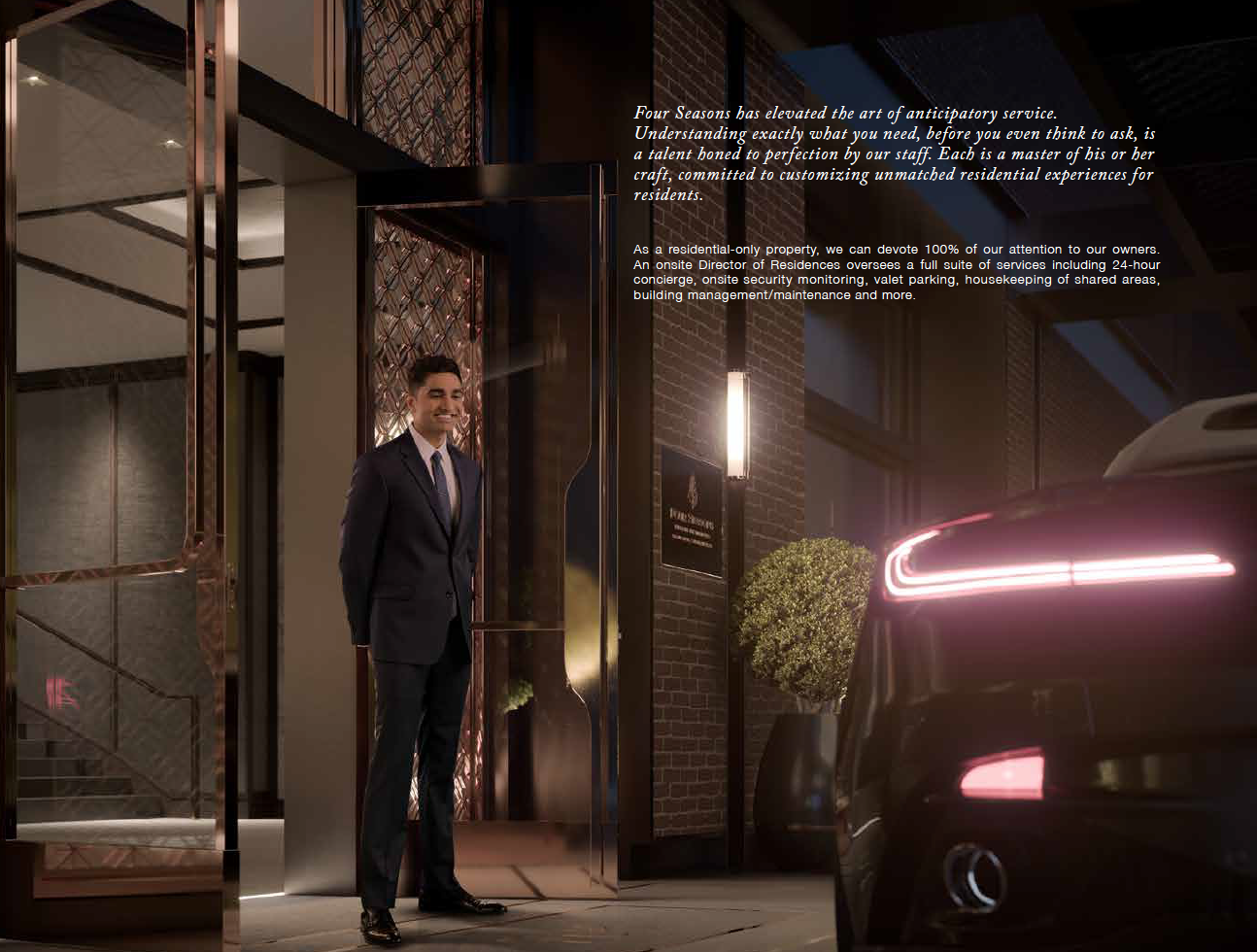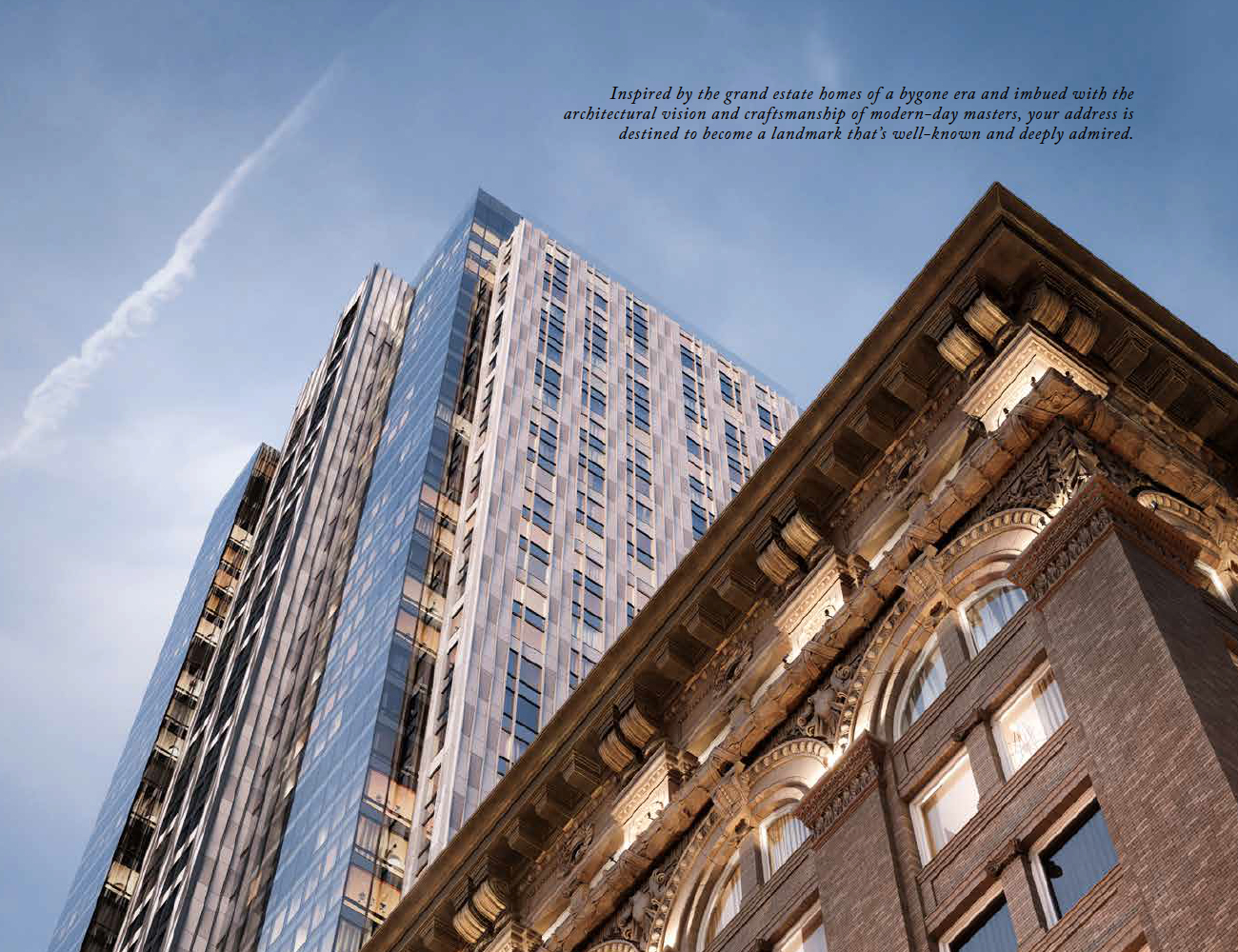 ---
706
Brochure Copy
April 15, 2019
COVER:
(Headline)
A masterpiece in the making
SPREAD:
(Subhead)
San Francisco elegance.
Four Seasons sophistication.
SPREAD:
Iconic San Francisco
Powered by innovation, invention and influence, San Francisco has always captured the world's imagination. "Supreme in her seven-hilled splendor," the city is a sublime juxtaposition of sunsets and ocean breezes…of dreams and mist. Here, where gold rush meets high tech, heritage continues to inform the future and bold pioneers are changing the world.
Explore, play, revel and do some myth-making of your own in a neighborhood that is the epitome of Bay Area grace and style.
SPREAD:
San Francisco's most coveted location
The Yerba Buena District's last and best available space artfully places you at the epicenter of San Francisco's cultural universe.
Outside your front door, SFMOMA, the Contemporary Jewish Museum and the Yerba Buena Center for the Arts. Just steps away, a world of pre-eminent galleries, renowned performance spaces, exceptional shopping and incomparable dining.
Indulge your passion for the arts and let our expert staff connect you to cultural experiences accessible only to our residents.
SPREAD:
"The tower's undulating form and top reflects the diverse character of San Francisco's urban forms in the area. The glass and masonry volumes were inspired by San Francisco's rich historic masonry and modern glass tower vernacular."
-Glenn Rescalvo
Partner and Lead Architect, Handel Architects

Rejoice in the details
Inspired by the grand estate homes of a bygone era and imbued with the architectural vision and craftsmanship of modern-day masters, your address is destined to become a landmark that's well-known and deeply admired.
SPREAD:
(ARRIVAL HEADLINE)
The grand arrival
SPREAD:
Historical modernity redefined
Four Seasons Private Residences at 706 Mission, San Francisco includes the restored 10-story historic Aronson Building, dating to 1903 and the new adjoining 510-foot tower. Originally designed by San Francisco architects Hemenway & Miller and built by Abraham Aronson in 1903, it survived the 1906 earthquake and fire as well as the 1989 Loma Prieta earthquake. Its design is significant, as it is recognized as the most representative and elaborate example of Chicago School style.
SPREAD:
Elegance upon arrival
The lobby exudes boutique-style exclusivity and sophistication. Honed Bianca Veina marble floors, stained dark oak accents and silk carpet and wallcoverings create a feeling of arrival and, at the same time, a welcoming sense of calm and homecoming.
SPREAD:
The historic Aronson Residences
Nestled atop the early-1900's Aronson Building, these 18 residences are warm and intimate with immersive museum and garden views.
SPREAD:
The grand entry experience
Inspired by Manhattan prewar style finishes, the majestic Aronson Residences entryway reflects an aesthetic of historical modernity and grand sophistication on a scale comparable to a single-family home—a unique feature in this market.
SPREAD:
CAPTION ON PHOTO: Elegant living room
An expression of deep comfort and refinement
Close to the energy of the city, the open floor plans and high ceilings feel inspiring and modern even as the wood, stone finishes and darker palette evoke an earlier, more genteel era.
SPREAD:
CAPTION ON PHOTO: Gracious dining room
SPREAD:
CAPTON ON PHOTO: Heritage kitchen
No detail overlooked
Appliances by Wolf and Sub-Zero anchor an incomparable gourmet kitchen experience. Highlights include honed Madreperola quartzite countertops and custom-stained ebony Poggenpohl cabinets with white interiors. Gather here with family, entertain on a grand scale or simply share the events of the day over a glass of wine in a space that'll surprise and delight.
SPREAD:
CAPTION ON PHOTO: Refined master bedroom
A restful retreat awaits
The sheer size of the bedroom and oversized dressing room affords ample space for downtime. Privacy is indeed a luxury, and in this peaceful space, you will enjoy it in abundance.
SPREAD:
CAPTION ON PHOTO: Pampering master bath
A serene sanctuary
Honed Arabescato marble, German milled Poggenpohl cabinetry and Dornbracht fixtures create a beautiful backdrop for the free-standing Victoria & Albert Amiata tub. Indulge.
SPREAD:
Views to inspire and invigorate
SPREAD:
The gracious Tower Residences
In the Tower Residences, floor-to-ceiling glass, high ceilings and sweeping floor plans make the stunning 360° panoramic views the focus of the living space.
SPREAD:
The "statement" lobby entrance
The breathtaking lobby entry features a striking stone surround and patterned floors to create a grand and memorable arrival experience.
SPREAD:
CAPTION ON PHOTO: Dramatic living room
City living, elevated
In beautiful contrast to the light and airy color palette, it's as if the skyline view is its own work of art, ever changing by the hour. The sense of space and scale gives these residences the feel of a grand estate home in the sky.
SPREAD:
CAPTION ON PHOTO: Hand-crafted kitchen
The heart of the home
The gourmet kitchen features honed Calacatta Oro Italian marble and German milled cabinetry by Poggenpohl. Generous 146-bottle wine storage allows for seamless entertaining and appliances by Wolf and Sub-Zero complete the picture, magnificently.
SPREAD:
CAPTION ON PHOTO: Voluminous master bedroom
All one could possibly need
The Tower master bedroom boasts 10' ceiling heights and a spectacularly sized dressing room. At the end of a busy day in the city, this is the perfect place to retreat with a good book or to turn in for a night of deep, restorative sleep.
SPREAD:
CAPTION ON PHOTO: Pampering master bath
Exquisite luxury
This will become your sanctuary; a place to unwind, exhale and rejuvenate. The showstopping Victoria & Albert Amiata tub awaits, accented by Blue de Savoie French marble, German milled Poggenpohl cabinetry and Dornbracht fixtures.
SPREAD:
Stunning 360° panoramic city views
SPREAD:
Incomparable Four Seasons service
Four Seasons has elevated the art of anticipatory service. Understanding exactly what you need, before you even think to ask, is a talent honed to perfection by our staff. Each is a master of his or her craft, committed to customizing unmatched residential experiences for residents.
As a residential-only property, we can devote 100% of our attention to our owners. An onsite Director of Residences oversees a full suite of services including 24-hour concierge, onsite security monitoring, valet parking, housekeeping of shared areas, building management/maintenance and more.
SPREAD:
CAPTION ON PHOTO:
Grand outdoor terrace
The Club: inspiring joy, play and serenity
Like those found in the world's storied hotels and resorts, the private residential amenities at Four Seasons Private Residences at 706 Mission, San Francisco are beyond compare.
A cornerstone of your luxury lifestyle will include The Club—a richly appointed amenity floor on the tower's fifth level for the exclusive use of our residents and their guests. Staffed by a Club Attendant, the space is a warm and welcoming place to gather, attend wine tastings, host an event and, most of all, feel part of your community.
SPREAD:
CAPTION ON PHOTO: Intimate bar
Exclusive, residential-only experiences
Residents will enjoy one-of-a-kind, curated lifestyle experiences focused on wine, art, wellness and design. Led by partners who are experts in their fields and well-connected within San Francisco and the surrounding region, this programming includes special excursions, events and insider experiences available exclusively to and inspired by the interests of our residents.
SPREAD:
Comfortable yet distinctly luxurious
Settle in. Make yourself at home. Gather with friends beside the fireplace in the lounge. Host an event in the private dining room. Soak in the sunset views from the landscaped outdoor terrace. Make this space your own.
SPREAD:
CAPTION ON PHOTO: Fully equipped game room
The art of downtime
Challenge friends to a game of billiards, shuffleboard or poker while enjoying multiple sporting events on a large-scale media wall. This sprawling game room includes a wet bar and a Sports Simulator, which allows residents to play golf and other sports right onsite.
SPREAD:
CAPTION ON PHOTO: Bespoke fitness and wellness
World-class fitness and wellness
Experience a tailored, fully equipped fitness floor with world-class equipment and exclusive, ever-changing wellness programming. Designed by celebrity trainer Harley Pasternak, this is a bespoke environment for the fitness enthusiast who has experienced the very best gyms and health clubs in the world.
SPREAD:
CAPTION ON PHOTO: Amply appointed library
SPREAD:
Arts & culture
A rare and magical oasis of museums, manicured lawns, award-winning architecture and public art.
DISCLAIMER:
This Brochure is for informational purposes only. No federal agency has judged the merits or value of this property. Nothing contained herein shall be construed as an offer to sell or a solicitation to buy in any state where prior registration is required. Price, plans, products, services and availability are subject to change without notice. Square footages listed herein are estimates only. CalBRE# 02086526
Four Seasons at 706 Mission, San Francisco are not owned, developed or sold by Four Seasons Hotels Limited or its affiliates (Four Seasons). The developer, 706 Mission Co. LLC Development, uses the Four Seasons trademarks and trade names under a license from Four Seasons Hotels Limited. The marks "FOUR SEASONS," "FOUR SEASONS HOTELS AND RESORTS," any combination thereof and the Tree Design are registered trademarks of Four Seasons Hotels Limited in Canada and U.S.A. and of Four Seasons Hotels (Barbados) Ltd. elsewhere.
---