Four Seasons Private Residences at 706 Mission, San Francisco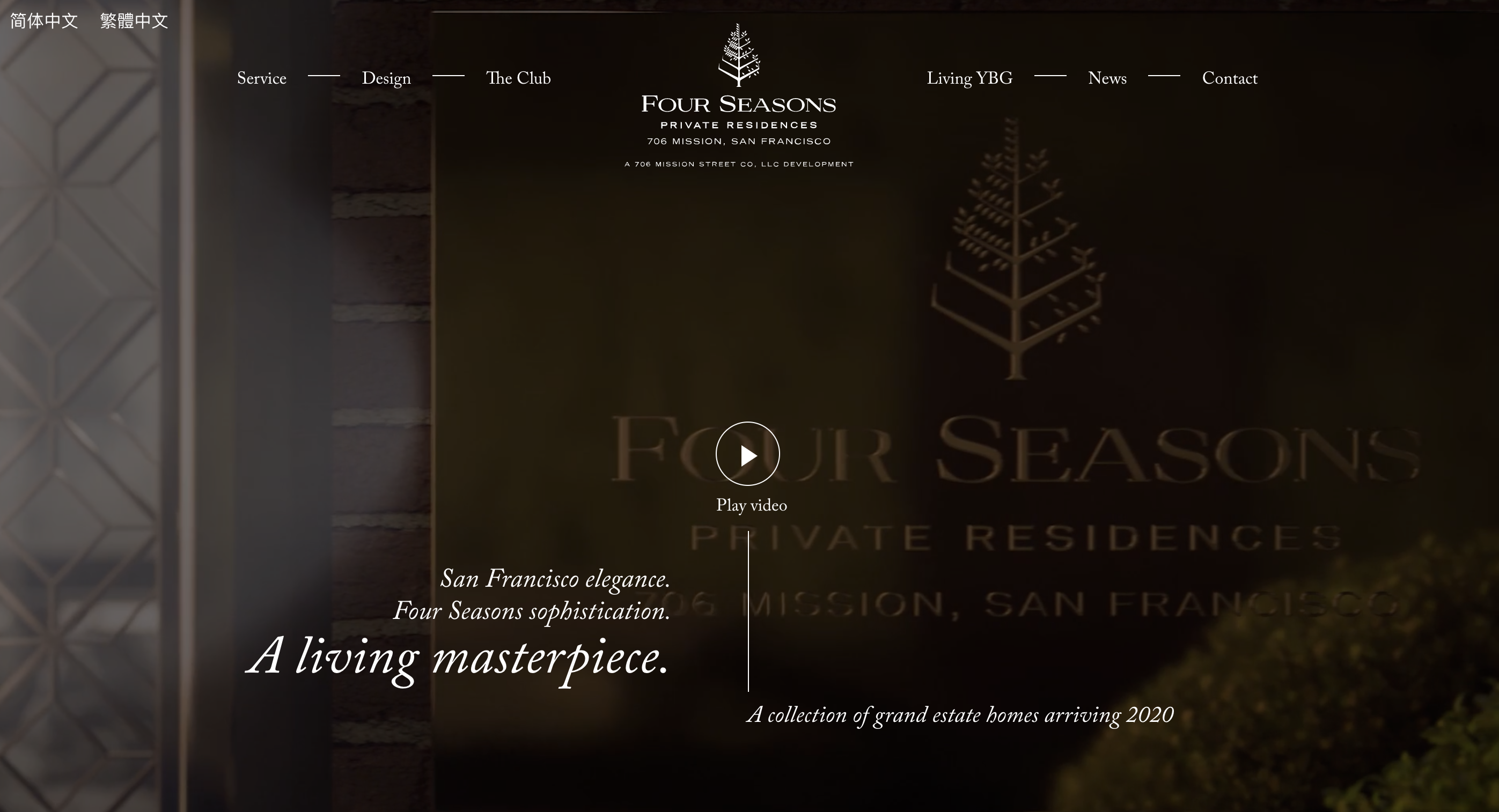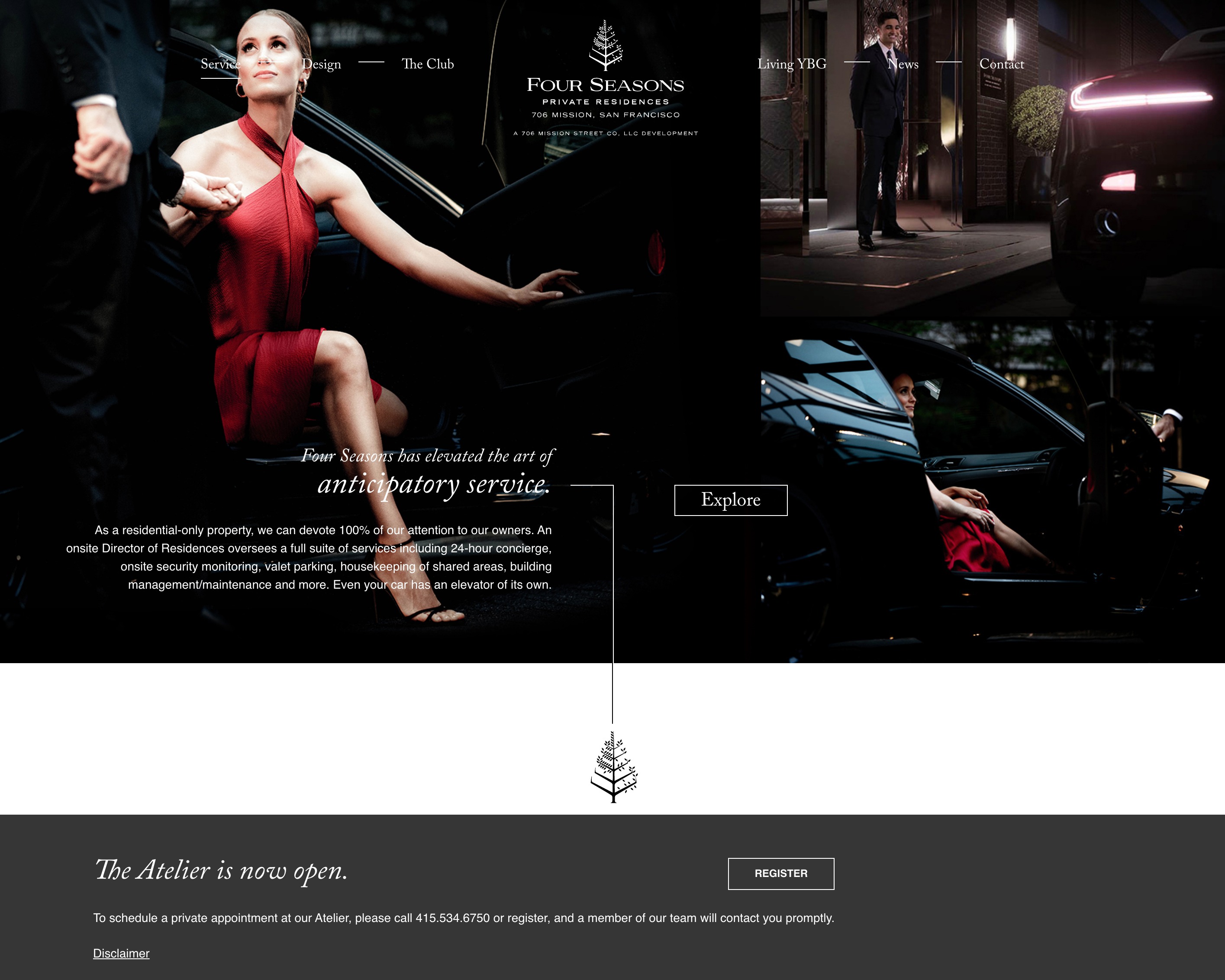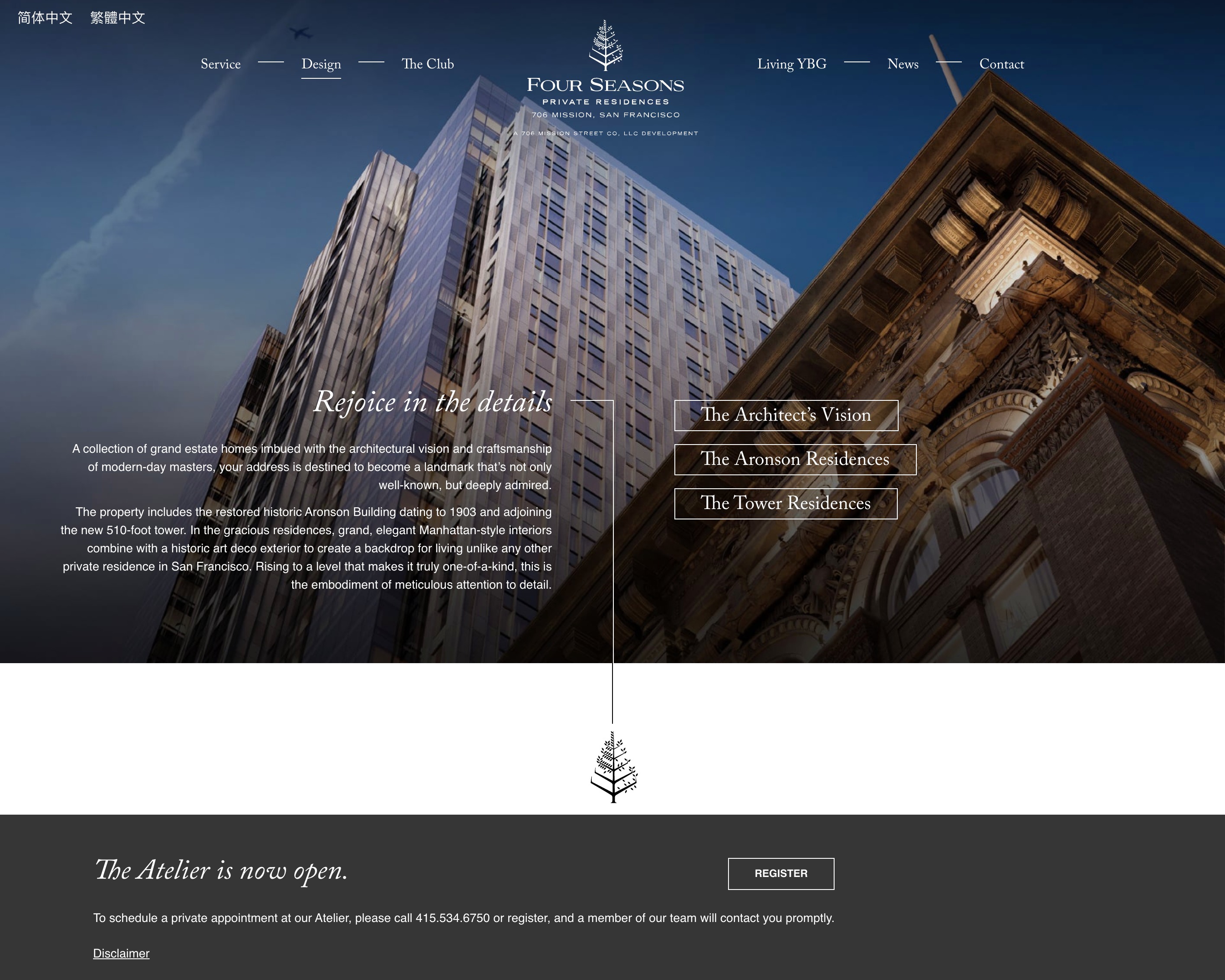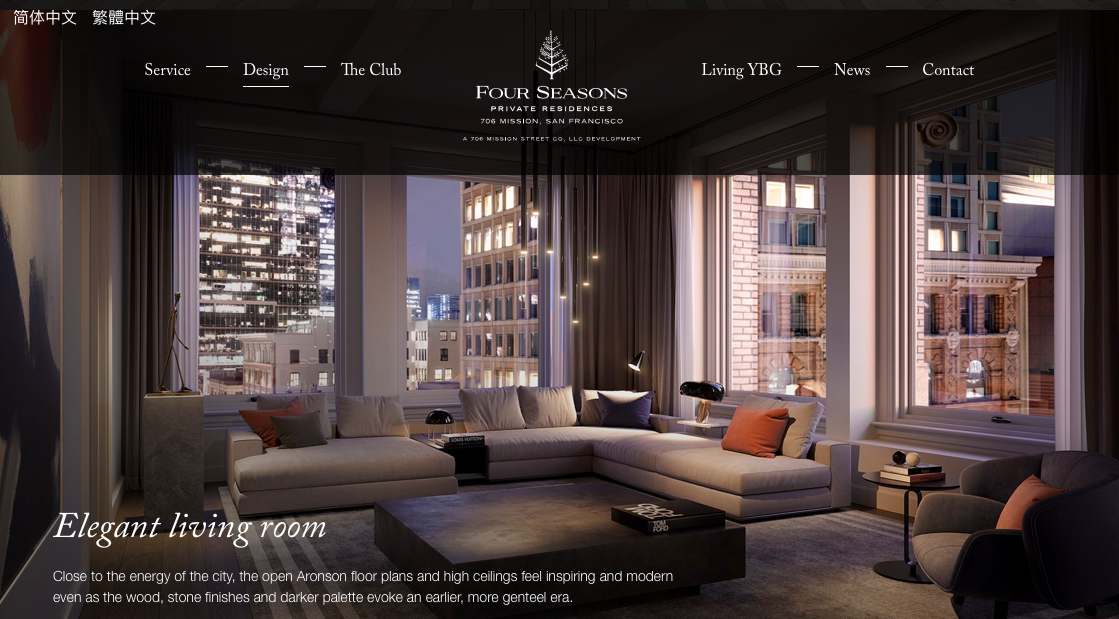 ---
HOME PAGE:
(Headline)
SAN FRANCISCO ELEGANCE
FOUR SEASONS SOPHISTICATION
A living masterpiece.
(Subhead)
A collection of grand estate homes arriving 2020
INTERIOR PAGE>SERVICE
(Headline)
Four Seasons has elevated the art of anticipatory service.
(Copy)
As a residential-only property, we can devote 100% of our attention to our owners. An onsite Director of Residences oversees a full suite of services including 24-hour concierge, onsite security monitoring, valet parking, housekeeping of shared areas, building management/maintenance and more. Even your car has an elevator of its own.
INTERIOR PAGE> DESIGN
(Headline)
Rejoice in the Details
A collection of grand estate homes imbued with the architectural vision and craftsmanship of modern-day masters, your address is destined to become a landmark that's well-known and deeply admired.
The property includes the restored 10-story historic Aronson Building, dating to 1903 and adjoining the new 510-foot tower.
In the gracious residences, grand, elegant Manhattan-style interiors combine with a historic art deco exterior to create a backdrop for living unlike any other private residence in in San Francisco. Rising to a level that makes it truly one-of-a-kind, this is the embodiment of meticulous attention to detail.
-Aronson Residences
Floorplans
Features/Amenities
-Tower Residences
Floorplans
Features/Amenities
"The tower's undulating form and top reflects the diverse character of San Francisco's urban forms in the area. The glass and masonry volumes were inspired by San Francisco's rich historic masonry and modern glass tower vernacular."
-Glenn Rescalvo
Lead Architect
INTERIOR PAGE> THE ARONSON RESIDENCES
The Historic Aronson Residences
Nestled atop the early-1900's Aronson Building, these 18 residences are warm and intimate with immersive museum and garden views.
The Grand Entry Experience
Elegant Living Room
Gracious Dining Room
Heritage Kitchen
The Aronson Master Bath
Pampering Master Bath
INTERIOR PAGE> THE TOWER RESIDENCES
The Gracious Tower Residences
In the Tower Residences, floor-to-ceiling glass, high ceilings and sweeping floor plans make the stunning 360°panoramic views the focus of the living space.
The "Statement" Entrance
Dramatic Living Room
Hand-Crafted Kitchen
Serene Master Bedroom
Spa-Like Master Bath
INTERIOR PAGE>THE CLUB
Inspiring Serenity, Joy and Play
THE CLUB
A cornerstone of your luxury lifestyle will include The Club—an 8,690 sq. ft. richly appointed amenity floor on the tower's fifth level for the exclusive use of our residents and their guests. Staffed by a Club Concierge, the space is a warm and welcoming place to gather, attend wine tastings, host an event and, most of all, feel part of your community.
Amenities include a lounge, outdoor terrace, bar, dining room, game room, library and world-class fitness and wellness center.
GALLERY PAGES> THE CLUB
Intimate, Staffed Bar
Fully Equipped Games Room
Private Library
Grand Outdoor Terrace
INTERIOR PAGE> PRESS
The Latest News
INTERIOR PAGE> CONTACT
We Welcome Your Inquiries
---