Millennium Tower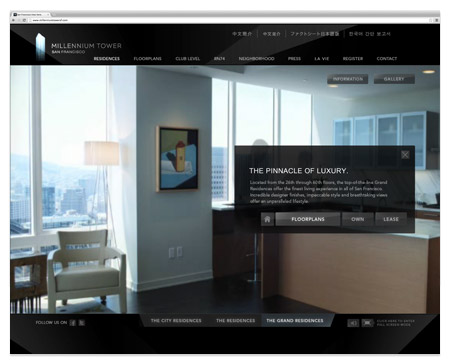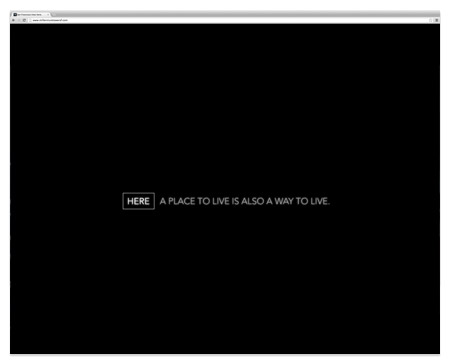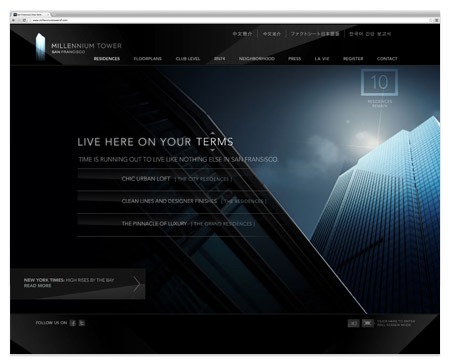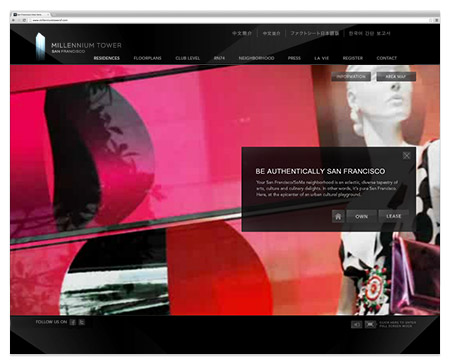 ---
HERE a place to live is also a way to live.
Millennium Tower is the epitome of San Francisco luxury living.
With a building design that is nothing less than spectacular, unrivaled services and amenities, and panoramic views uniting you with the city you love, Millennium Tower is a San Francisco icon among icons.
ABOUT LA VIE:
Live La Vie
Millennium Tower residents live La Vie, an exclusive lifestyle and social network celebrating our passion for food, wine, travel, art and culture. Creating one-of-a-kind experiences inside and outside the tower are at the heart of La Vie.
ABOUT THE RESIDENCES:
The Grand Residences
The most exquisite finishes and awe-inspiring views make these homes on the very highest floors the ultimate lifestyle choice.
The Residences
Clean lines and contemporary designer finishes create an environment of polished elegance and sophistication.
The City Residences
The finest accents and finishes beautifully complement your love of the urban aesthetic.
---
Millennium Tower is the tallest and most expensive residential building west of the Mississippi. Home to Hall of Fame quarterback Joe Montana and numerous Silicon Valley entrepreneurs, it's the most desirable urban residential address in San Francisco and one of Worth Magazine's Top 10 Residential Buildings in the World. The writer for all Millennium Tower marketing pieces, I created the voice for this one-of-a-kind lifestyle from pre-groundbreaking through final sales and beyond. I also named and launched La Vie, the branded lifestyle network created by the developer of this property and numerous Four Seasons and Ritz-Carlton luxury residences.