Pennsylvania Tourism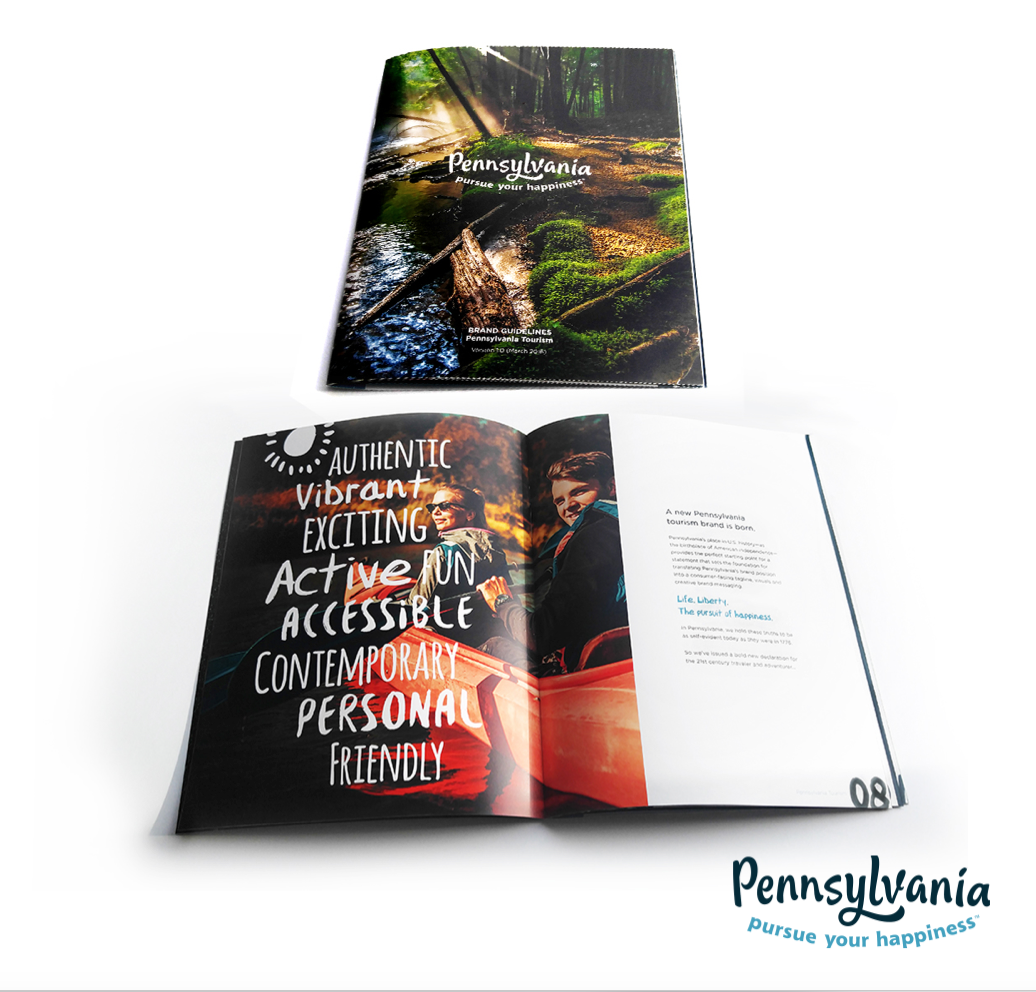 ---
PA TOURISM
Brand Guidelines Book-REVISED
February 14, 2015
COVER:
Pursue Your Happiness
Brand Guidelines
Pennsylvania Tourism
March, 2016
INSIDE PAGES:
(HEADLINE)
About the Pennsylvania Brand
(SUBHEAD)
How We Should View the New Brand.
• The core promise Pennsylvania makes to prospective visitors and guests
• More than just a logo or a tagline; the essence of who we are in the minds of visitors and prospects
• A holistic, multi-faceted approach to communicating Pennsylvania's core promise
• A guiding compass that will inform all of our decisions and actions, even the smallest ones and those our visitors never see
• A means to tell our state's own unique stories in ways that are both rational and emotional
• An expression of what visitors and potential visitors think and feel about Pennsylvania and believe to be true
• Upheld and advanced by everyone in the tourism industry, at every level
(HEADLINE)
The Best Brands are Simple, Meaningful and Ownable.
(SUBHEAD)
Why Build a Strong Pennsylvania Tourism Brand?
• To build an emotional and rational connection with our prospective visitors and guests
• To encourage a deeper understanding of and relationship with our visitors
• To have a strong identity that stands apart from that of other states
• To create consistent messaging and alignment across Pennsylvania's diverse and varied industry partners
• To build loyal advocates and followers
• To spark continuing interest and curiosity among potential visitors and guests
• To motivate action and drive bookings, reservations and purchases across the state
• To spur repeat visits to Pennsylvania and strong word-of-mouth that resonates beyond the visit
• To deepen our shared tourism industry values
• To create lasting loyalty with every individual who visits our state
(SIDEBAR QUOTATION-OPTIONAL)
What is a Brand?
"Your brand is what other people say about you when you're not in the room."
-Jeff Bezos, Founder, Amazon.com

(HEADLINE)
A 21ST CENTURY ADVENTURE AWAITS YOU IN PENNSYLVANIA
(SUBHEAD)
Behind the New Pennsylvania Tourism Brand
The new Pennsylvania tourism brand is fresh, bold and, well, happy. It was created to accomplish three primary objectives:
• Motivate tourism prospects to come to Pennsylvania
• Energize stakeholders across the entire state
• Support tourism efforts at every level
Launched in 2016, the new brand reflects almost two years of extensive research into Pennsylvania's competition, current potential target markets and unique points of differentiation.
What came out of the research was a strong, unassailable brand position for Pennsylvania tourism that should inform all tourism marketing and promotional elements moving forward. It's all about happiness, adventure and the desire of travelers to mix, match and personalize to their heart's content.
(HEADLINE)
MISCELLANEOUS PA BRAND WORDS OVER PHOTO (HOWEVER YOU WANT THEM LISTED):
Personal
Human
Exciting
Vibrant
Fun
Contemporary
Authentic
Accessible
Friendly
(SUBHEAD)
A New Pennsylvania Tourism Brand is Born.
First came the research. The next step was to test what kind of images, tone and messaging would actually spark a visit to Pennsylvania. Months of industry input and focus group testing of creative concepts revealed a strong traveler preference for an active and action-oriented tone and a fun, adventurous and even humorous brand personality.
Then our challenge was to sum up in a short statement exactly how the new tagline, visuals and creative brand messaging should resonate with the Pennsylvania visitor. Pennsylvania's place in U.S. history–as the birthplace of American independence–was the perfect starting point.
Life. Liberty. The pursuit of happiness.
In Pennsylvania, we hold these truths to be as self-evident today as they were in 1776.
So we've issued a bold new declaration for the 21st century traveler and adventurer…
(TURN PAGE FOR REVEAL OF LOGO TREATMENT)
PENNSYLVANIA. PURSUE YOUR HAPPINESS.
Come to Pennsylvania. Embark upon your own personal happiness adventure. Follow where joy leads you. Whoever you are, no matter what you love to do, know that happiness is Pennsylvania's keystone. It always has been. It lives in our historic treasures. Our dynamic urban spaces. Our greater-than-great outdoors. Mix it up. Make it yours. Visit soon and build your own personal adventure from every corner of our warm and welcoming state. You'll be so happy you did.
(HEADLINE)
PENNSYLVANIA. PURSUE YOUR HAPPINESS. (LOGO)
The adventure has begun. For all of us who have a stake in the success of Pennsylvania's tourism industry, the time is now.
Be part of the happiness. Show it. Own it.
Spread the word to prospective visitors that if they're in pursuit of their own personal brand of happiness, there's only one place to find it. Pennsylvania.
---