The Cork Factory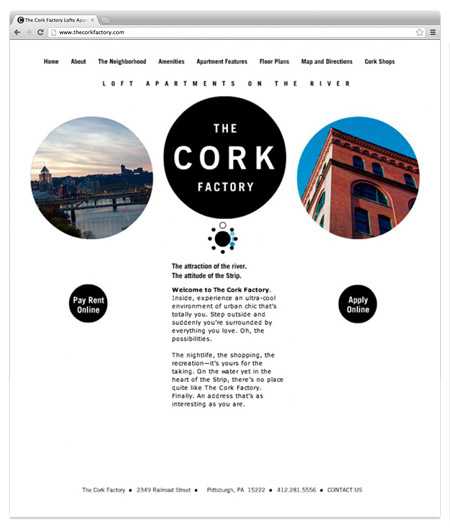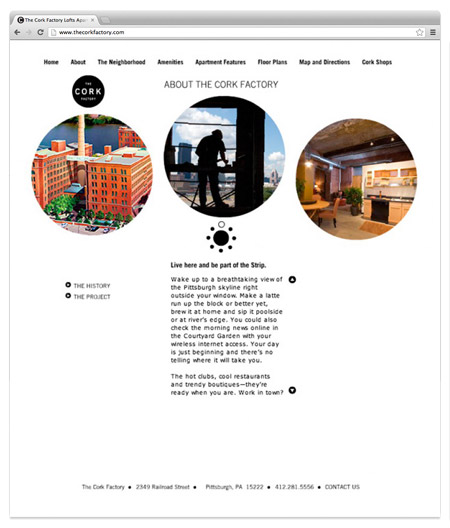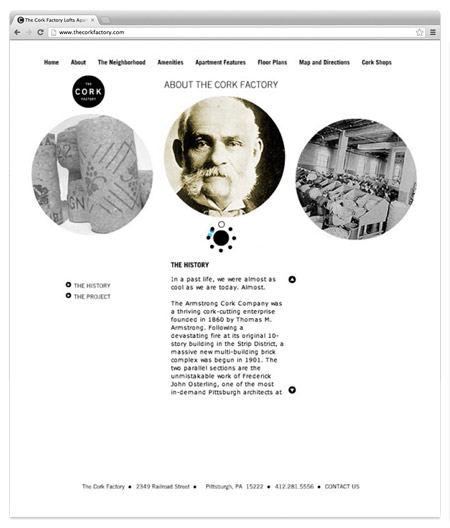 ---
H1:
ABOUT THE CORK FACTORY
Live here and be part of the Strip.
Wake up to a breathtaking view of the Pittsburgh skyline right outside your window. Make a latte run up the block or better yet, brew it at home and sip it poolside or at river's edge. Your day is just beginning and there's no telling where it will take you.
The hot clubs, cool restaurants and trendy boutiques—they're ready when you are. Work in town? You can walk there from here. In other words, no city limits. This is your world now.
H1:
THE HISTORY
Everybody has a past. Come relive ours.
In a past life, we were almost as cool as we are today. Almost.
The Armstrong Cork Company was a thriving cork-cutting enterprise founded in 1860 by Thomas M. Armstrong. Following a devastating fire at its original 10-story building in the Strip District, a massive new multi-building brick complex was begun in 1901. The two parallel sections are the unmistakable work of Frederick John Osterling, one of the most in-demand Pittsburgh architects at the turn-of-the-century. The section between the two buildings was added in 1913. The outside architectural treatment is characteristic of its time, an imposing masonry expression with simple brick ornamentation.
The Cork Factory is a true historic landmark. Rarely have the past and present co-existed so beautifully in one place.
H1:
THE NEIGHBORHOOD
It's life. Stripped.
For once, the biggest buzz in the Strip doesn't belong to a hip new restaurant or a hot new club.
Here, in Pittsburgh's only 24-hour neighborhood, the one place everyone's clamoring to get into is the Cork Factory.
SHOPPING
With some of the city's most eclectic stores just minutes away, your shopping list is about to get very interesting.
LIST OF SHOPS TBD LATER
DINING
From pad thai to panini to pasta, there's no limit to the culinary enticements that await you.
LIST OF RESTAURANTS
NIGHTLIFE
The Strip is Pittsburgh's party central. So many clubs, so much going on—and so easy when you don't have to worry about driving in, finding a parking space and the long drive home.
LIST OF RESTAURANTS
ART
Art and craft lovers flock to the Strip to browse and to buy. Stroll through your new neighborhood and see whose work is hanging around.
LIST OF ART/CRAFT GALLERIES
CULTURE
The beauty if the Strip is that it can both appeal to your most basic need for food, drink and nightlife. Or it can bring out the urban sophisticate in you.
LIST OF CULTURAL ATTRACTIONS
DOWNTOWN
A bit further away but no less tempting are the many attractions of downtown Pittsburgh. It's not only out your window, it's out your door and to the right.
---