Winthrop Center/MP Boston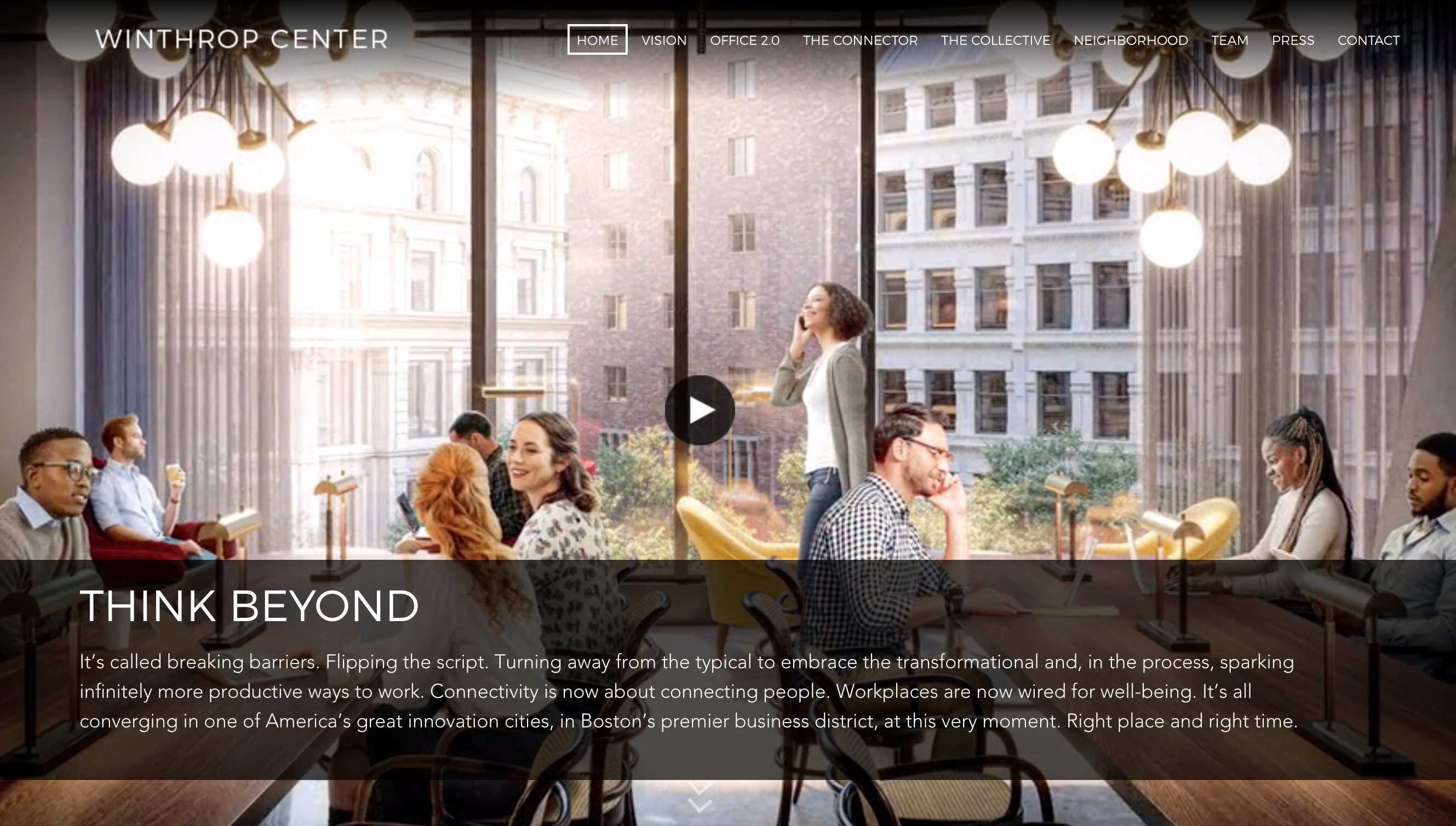 ---
WINTHROP CENTER
Web Copy Revisions
April 4, 2019
HOME PAGE:

WINTHROP CENTER
THINK BEYOND
It's called breaking barriers. Flipping the script. Turning away from the typical to embrace the transformational and in the process, sparking infinite, unimagined new ways to work.
Connectivity is now about connecting people. Workplaces are now wired for wellbeing. It's all converging in one of America's great innovation cities, in Boston's premier business district, at this very moment. Right place and right time indeed.
(GROUNDBREAKING VIDEO CAPTION)
"This project will set the tone for how we want to continue to move the city of Boston."
Mayor Martin J. Walsh
Winthrop Center Groundbreaking
October 24, 2018
VISION PAGE:
BEYOND
ALL LIMITATIONS
OR
ENVISION
BEYOND
All eyes are on Boston, where this bold new approach to responsible, resourceful and renewable office space for the 21st century is being born. The largest Passive House office building in the world, Winthrop Center is pushing the outer limits of how a commercial building can not only serve its inhabitants, but also a higher purpose and a greater good. The new century demanded it, so we built it.
(FERNANDEZ VIDEO CAPTION)
"Office environments must be designed with a responsibility to the planet's resources."
MIT Professor John Fernandez
Founder, Urban Metabolism Group
(SUBHEAD)
The Largest Passive House Office Project in the World.
Beyond LEED Platinum. Beyond Well Gold. Beyond Wired Silver.
With International Passive House certification, Winthrop Center meets the most rigorous global standards for energy and efficiency. Through leading-edge envelope construction, Passive House reduces energy consumption by as much as 80% and delivers dramatically improved thermal comfort for every occupant.
But Passive House is just the beginning. Like no other office building on earth, Winthrop Center works to forge unexpected connections. Whether it's uniting employees with each other, a healthier lifestyle, their highest aspirations or the very best experiences in Boston, Winthrop's next-gen design and proprietary connexIQ operating system are powerful magnets for today's top talent.
CERTIFICATION LOGOS + CONNEXIQ LOGO
OFFICE 2.0 PAGE
BEYOND
THE BOX
OR
DESIGN
BEYOND
T is for transformational. The unique T-shaped floorplate delivers unlimited interior possibilities because it literally breaks free of the box. 95% of all work stations are within 35 feet from floor-to-ceiling windows (and stunning city views). The layout supports intimate workplace neighborhoods in each wing of the T. Protected terraces on every floor bring the outdoors in. It's not only workable, it's work-changing.
(SUBHEAD)
Intentional Design for Creativity & Productivity
• Voluminous 12' high space, flat continuous ceiling everywhere and 10' high glass throughout
• 37,800 rsf floors, versatile for both high and low density uses with 1,000 linear feet of perimeter, allowing 95% of seats to be within 35' of a window
• Exceptional column spacing and offset building core to promote natural planning of "neighborhoods" around a centralized town hall and create a 240' by 50' throughway from Federal to Devonshire Streets
• Private outdoor terrace on every floor overlooking Winthrop Square Park with soaring 25' double height nearby, if tenant so desires
(REETIKA VIDEO)
"The unconventional T-shaped floor plate is an amazing opportunity to think outside the box—literally."
Reetika Vijay
Principal, IA Boston

(SHERRY VIDEO)
"The wide-open space you get with the floorplate shape means you can create a real wow effect."
Sherry Niazmand
Visnick & Caulfield
(MARC VIDEO)
"The covered private terraces are a differentiator. Think about how rare it is in downtown Boston to be able to step outside your office and smell the salt air."
Marc Margulies
Principal, Margulies Perruzzi Architects
(ELIZABETH VIDEO)
"The layout allows for workplace-centric 'neighborhoods' on a human scale that bring people together. These moments and connections are what spark creativity and innovation."
Elizabeth Lowrey
Elkus Manfredi Architects
THE CONNECTOR SECTION
BEYOND
THESE WALLS
OR
CONNECT
BEYOND
OR
ACCESS
BEYOND

The Connector is Winthrop Center's gift to the people. A multi-floor public gathering space and thruway, the Connector is designed to resonate on an emotional level with everyone who interacts with it. Plug into the energy. Power down post-work. In ways large and small, this space educates, entertains and engages, seven days a week, by connecting people to the best minds, music, culture and digital trailblazing Boston has to offer. It's unprecedented.
(CONNECTOR VIDEO)
HAVE A LOOK AROUND
THE CLUB SECTION
BEYOND
WORK/PLAY
OR
WORK/PLAY
BEYOND

How does today's elite talent want to work? How do they connect work with play?
An artful combination of "under one roof" and "in another universe", Winthrop Center's 24,000 sq. ft. Club checks every box, for every individual. Here, in the stunning heart of the building, a world-class Fitness Center keeps employees connected, fit and well. Ongoing social events bring curated local food, arts and cultural experiences to their lives—and devices. Introverts find sanctuary. Extroverts find friends. The Club is both right downstairs and a radical departure. It works on every level.
THE VIEWS SECTION

BEYOND
THE CORNER OFFICE
OR
VIEW
BEYOND
OR
BEHOLD
BEYOND
Unobstructed sightlines. 95% of workstations no further than 35' from a 00-ft. window. Now everyone has an office with a view. Unrivaled panoramic vistas include (NEED LANDMARK VIEWS/BUILDINGS). And after all, Boston's seasons, from sunshine to snowfalls, have always inspired greatness.
THE NEIGHBORHOOD SECTION
BEYOND
CENTRAL
It doesn't get any more central than the heart of the Financial District in downtown Boston. Here you can feel the new business renaissance that's reshaping the city, fueled by the region's world-class academic powerhouses. Close to the Common and steps from all MBTA lines and Winthrop Square Park, this is downtown's only new construction. Want to do big things? Choose a big address.
---